Getting my period was one of the most traumatic experiences of my life.
I was really young, just going into the 5th grade.
No one in my family had ever talked to me about what to expect, and I felt lost.
The only thing I knew about a menstrual cycle was what I'd read in Are You There God? It's Me, Margaret.
Fortunately, my aunt was visiting from out of town and broke everything down for me.
It's decades later and I'm still grateful to her for how she took care of me.
As the mom of a daughter, I knew I never wanted my girl to feel anxious about something that's natural and that all women go through.
There's nothing scary or embarrassing about the body doing what the body does.
How do I prepare my tween daughter for her first period?
To make sure your daughter is ready for her first period:
Start talking to her about her period early.
Educate her about her period.
Talk to her about her body.
Make a period kit.
Talk to the other members of your family so they are considerate of your daughter's personal changes.
Remind her that she can still do anything she wants.
Start talking about her period early
I started talking to my daughter about this way back when she was in preschool.
She's in the 5th grade now, and it's even more important to have these conversations and to make sure she's ready when her cycle begins.
She needs to know how to take care of herself.
Things have changed a bit since I first started my cycle.
Feminine products aren't nearly as primitive as they used to be.
Thanks to innovations like period panties and menstrual cups, girls don't have the same concerns about messing up their clothes, or having to change their schedules because of period issues like we did.
I'm glad about that!
I don't want my daughter to go through what I went through with the discomfort and embarrassment.
Even though I've gone through the whole first period experience, it's been a long time.
I want to make sure my daughter is prepared whenever that time comes for her.
Here's how I'm getting prepared for my tween daughter's first period.
Educate her about her period.
I was completely caught off guard when my body started changing.
My daughter is going to be well informed.
I started purchasing books for her and talking freely about the changes she could expect when she was just a little girl.
Now that she's older and her body is transforming, she's more excited than scared.
The two books I always recommend moms pick up for their girls are Celebrate Your Body and Its Changes, Too and The Care and Keeping of You.
Both of these books are engaging easy to digest.
Quite frankly, I learned things I didn't know (or had forgotten) from these books, too!

Free Period Tracker For Girls
I've also created a period tracker journal just for the Mama Knows It All community. Click to download a digital copy for free, or purchase a paperback version of the That Time of the Month journal on Amazon.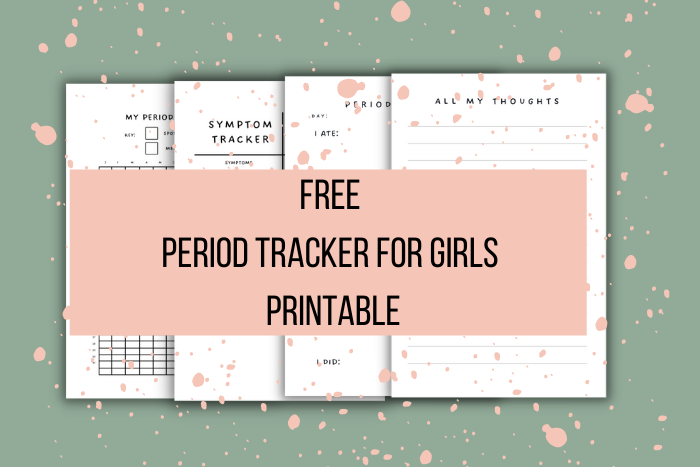 Talk to her about her Body
Don't just rely on books to teach your girl about her period. You'll also want to talk to her about it.
Normalize discussing the changes a woman's body goes through in every day conversation.
Give her space to ask questions, and be honest and transparent when you let her know what to expect.
If talking is uncomfortable for her, consider journaling with her.
The journal I wrote, Just Us Girls: A Shared Journal For Moms and Daughters, has tons of prompts, but also free space for her to share what she's feeling about the changes she's going through.
Make a period kit
Not having pads and other supplies when my period starts is a nightmare even for me as an adult.
Imagine what it would feel like as a girl getting her cycle for the first time!
Once your daughter starts showing signs of puberty, it's a good idea to put a period kit together.
Order period panties, pads, and make sure you have ibuprofen and a heating pad on hand in case she has cramps.
I really love using a menstrual cup and hope that my daughter does as well.
I'd suggest having one in your kit so you can teach her how to use it if she's interested in a less-mess, eco-friendly option.
What to put in a first period kit
Here's a list of things you might want to put in a first period kit:
Have conversations with other members of your family
The men in my family didn't mean any harm, but they were completely clueless about the changes I was going through as a tween.
Because they were uneducated, they teased me and made me feel super uncomfortable.
Everyone in your family needs to understand the changes a girl goes through so that they can be thoughtful when your daughter's period starts.
The last thing she needs is to be bothered when she's trying to get used to her new normal.
Remind your daughter that she can still do anything she wants to do
As much as you want your daughter to be prepared for her period to start and to understand that it's a change she'll have to get adjusted to, you also don't want her to be nervous or anxious that everything will be different.
Assure your daughter that she can still do anything she wants, yes, even swimming.
Even wearing white.
Or going to sleepovers.
Again, keep it real with her about how she will have to take care of herself, but let her know that she will still have the freedom to be the active girl she's always been!
Other posts you'll like: