What are some easy meals my tween can make?
A few months ago, in a period of incredible overwhelm, I finally had to wave the white flag.
Between working, parenting, being a wife, and everything that comes in between, I was done.
My family and I had a meeting and I let them know that I needed more help around the house.
From chores to cooking, other folks were going to need to step up.
My family is incredibly supportive of me. They never intentionally do things to make extra work for me. Still, I was feeling like all of the cooking and deep cleaning was falling on me and I was tired.
After our family meeting, though, things changed. My husband and daughter really stepped it up!
Tweens can help out in the kitchen
The biggest area of support was in cooking dinner for the family.
After a long day of working, I felt completely depleted by the time I needed to cook supper.
I'd find myself running out for fast food day after day. My mom guilt certainly got a workout with that!
Also, after days and days getting takeout in a row, my kids got bored with it. That's where my tween comes in.
At 10 years old, Ayva is pretty proficient in the kitchen. Easy meals are no problem for her.
She's not one of those kids who wants to be a chef or anything, but she can certainly cook eggs, and likes to bake.
When I was her age, there were plenty of meals that I made for myself as I waited for my parents to come home after school, so I know that she is capable of cooking.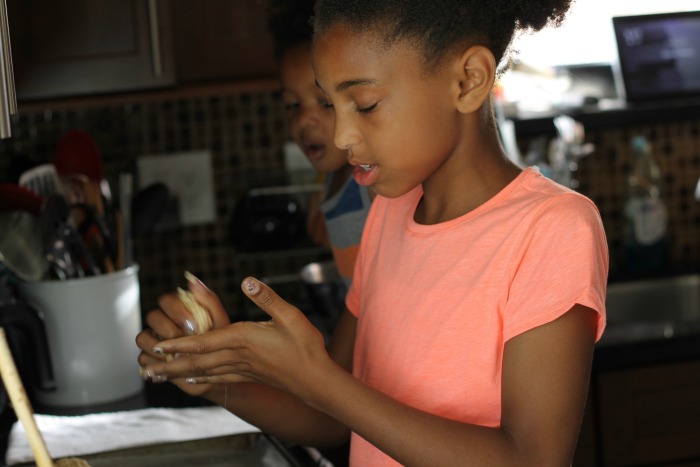 One of the solutions to my overwhelm that we came up with as a family was for Ayva to cook one meal a week.
She can make anything she wants. I mean, she's ten, so I don't expect a gourmet 4-star restaurant experience.
If she wants to make breakfast for dinner, I'm fine with that. The only rules are that she needs to plan her menu ahead of time so that I can make sure to shop for the ingredients when I put in our grocery order.
At first, Ayva was nervous about the responsibility.
She wasn't sure if she would be able to find meal that everyone would like.
Keep It Simple With Easy Meals
I encouraged her to think about what she would like to eat, and to keep it simple.
We also sat down together and came up with a list of some meals that she could make based on her cooking experience so far.
From grilled cheese sandwiches to easy spaghetti, your tween can cook, y'all.
Do yourself a favor and take a night off from kitchen duty. Get your tween in there and let them show you what you can do!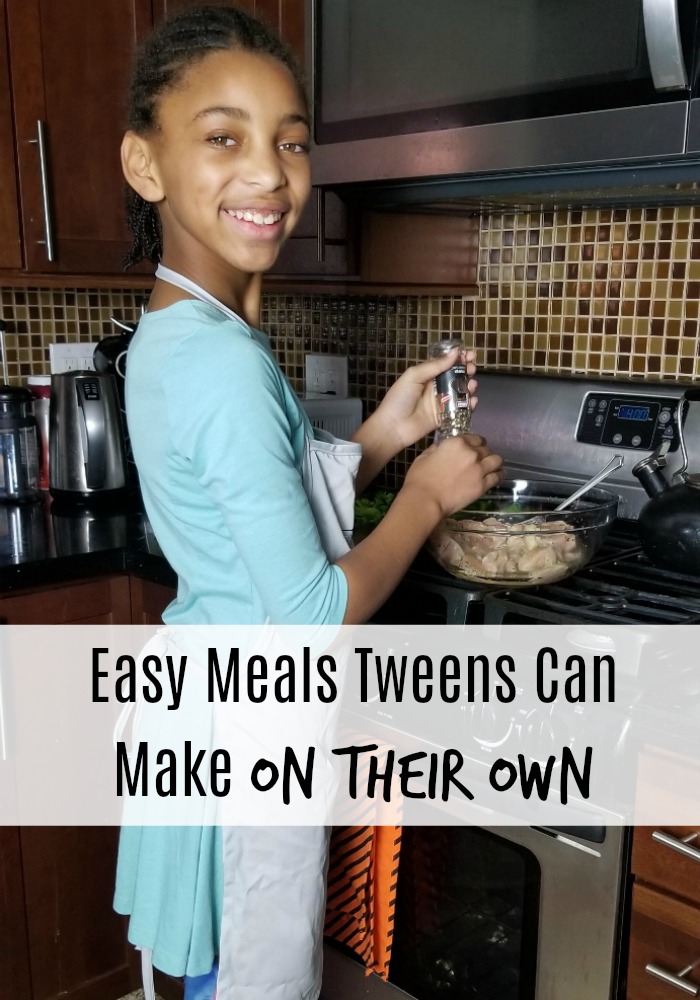 10 easy meals your tween can make on their own
1. Grilled cheese sandwiches
What's cool about grilled cheese sandwiches is that you can put other things in them to make them even more hearty. We like to add sliced turkey from the deli in ours. Serve with carrot sticks and chips.
2. Quesadillas
Cheese quesadillas are so easy! If you buy a rotisserie chicken from the market (or shredded chicken), your tween can add that to the quesadilla, too. Serve with a side salad.
3. Peanut butter and jelly sandwiches
Yes, peanut butter and jelly sandwiches can be eaten at dinner time! Instead of breakfast for dinner, it's lunch! Serve with a side of yogurt with strawberries and bananas on top.
4. Hot dogs
Instead of boiling hot dogs, my daughter fries them in a pan. They're so delicious! Serve with a side of french fries which are super simple for tweens to make if you have an air fryer.
5. Spaghetti
Boil water and add spaghetti noodles, cook ground turkey, add sauce and seasonings. It's as simple as that! Serve with a sprinkle of parmesan. We add spinach to our spaghetti, so we don't usually eat anything else with it.
6. Tortellini
Tortellini with spinach is Ayva's specialty. All your tween has to do is boil water and add the tortellini. While that's cooking, they sauté spinach in a pan with olive oil (or butter) and garlic. When the tortellini is done, they add it to the pan with the spinach. Season it all up and they're done! Serve with fresh fruit on the side.
7. Frittata
Although frittatas are my normal go-to for family meals when I'm not in the mood to cook, I now share it with my tween. Frittatas are easy to make with whatever ingredients you have at home as long as you have eggs.
8. Eggs and bacon
Ayva's eggs are delicious! For dinner some nights, she'll make eggs, microwave turkey bacon, and butter up some toast. It's perfection. Serve with fruit.
9. Pancakes
Tweens love pancakes and they're pretty easy to make, especially if you have a mix. Ayva will make sausage or bacon with pancakes and it's the baby's favorite meal. Serve with sliced bananas.
10. Soup
Whether it's soup in a can or something your tween puts together using broth and produce you have at home, this meal is perfect for cold nights. Serve with crackers, or even better, let your tween pop some refrigerator biscuits in the oven!
Easy Recipes That Your Tween Can Make
The beauty of our kids getting older is that they can take on more responsibility. A kitchen is a great place for them to exercise their independence. These recipes are easy enough that your tween can follow, and they taste delicious!
another post you might like: