Looking for an easy meal? This easy ground turkey with greens dish can be made in 15 minutes!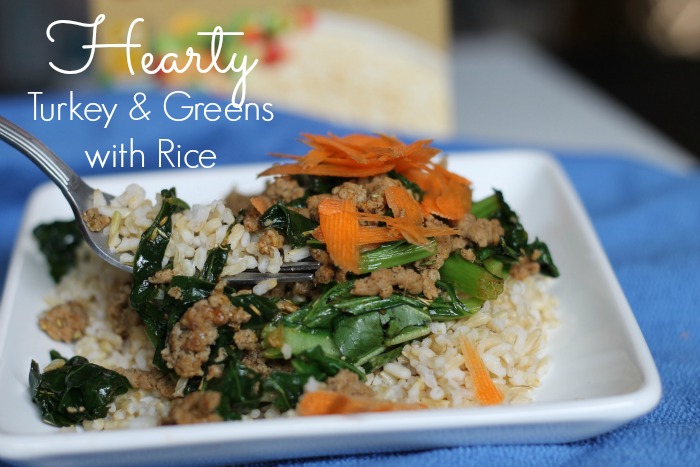 I've been a terrible mother over the last few weeks.
Between Christmas parties, holiday get-togethers and being so tired from said events, I can count the number of times I've cooked for my family in the past month on one hand.
What can I say? Things got pretty busy around here.
With the holidays almost behind us, it's time to get back on a regular schedule. The days of eating out or ordering in are over and Mama's getting back in the kitchen.
Thanks to my stash of simple recipes, I won't be in there for long, though!
Here's the thing, I don't mind cooking.
I actually enjoy getting compliments for creating delicious meals for my family.
Between my job, my business, and being my children's chauffeur, I just don't have a lot of time to create those yummy meals.
I've become the master of the quick dinner, and can create a complete meal, from scratch, in 20 minutes from start to finish.
It's not hard. My number one tip is to look for shortcuts.
When I go grocery shopping, I do things like purchasing veggies that are already washed and chopped.
I make sure I always have a cabinet stocked with staples and seasoning, and I pick up easy to prepare items like quick cooking rice and pasta.
Speaking of shortcuts, this recipe for Hearty Turkey and Greens with Rice is one of my go-to's for a quick meal that's delicious and fills you up.
Try it out and let me know what you think!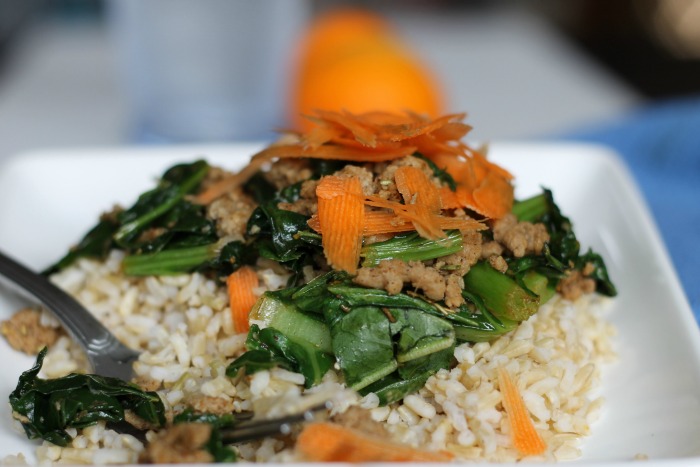 Hearty Ground Turkey & Greens
Ingredients
– 1 lb. ground turkey
-3 cups washed and chopped mustard greens
-1 clove garlic
-1 tsp. paprika
-1/2 tsp. black pepper
-1 tsp. of salt
-assorted dried herbs based on your preference (I used rosemary)
-1 cup of rice
Directions
Cook the rice according to the directions on the package.
Add olive oil to a pan and put the garlic in.
Brown the ground turkey and season with salt, paprika, black pepper and herbs.
Serve over rice.
Easy and delicious, right?
You should be done in about 15 minutes!
Other posts you might enjoy:
15 Minute Pasta with Spinach and Arugula
Make Baked Apples In An Air Fryer
Pan-Seared Chicken with Cheddar Grits