The days are getting shorter, the leaves are changing colors, and it's almost time for Halloween!
If you're looking for a fun way to celebrate the spooky season with your family, why not host a Halloween movie night?
When we have movie nights, we typically need to account for different generations because our family has adults, a teen, a little kid, and my in-laws who are older.
Thankfully, everyone agrees that family movie nights are the best because who doesn't love popcorn, candy, lots of laughs, and a few jump scares in between delivering boo bags and stressing out about Halloween costumes?
Here's how to host a Halloween movie night that the entire family will enjoy.
Set the Mood
When you host a Halloween movie night, you want to get everyone in the mood before you even press play on the film.
Set the mood by dimming the lights, lighting a few candles, and decorating with fake cobwebs, jack-o-lanterns, and other Halloween decor.
Have spooky music playing while you're prepping the snacks and waiting to start the movie.
Make Snacks
All movie nights need snacks, and this is the time of the year to make some fun Halloween-themed treats like "mummy dogs" (hot dogs wrapped in crescent roll dough), caramel apples, popcorn with Halloween sprinkles, and dirt cups.
You can buy cupcakes from the market, or use a box mix to make brownies.
Throw a bunch of Halloween candy in a bowl, and you're good to go!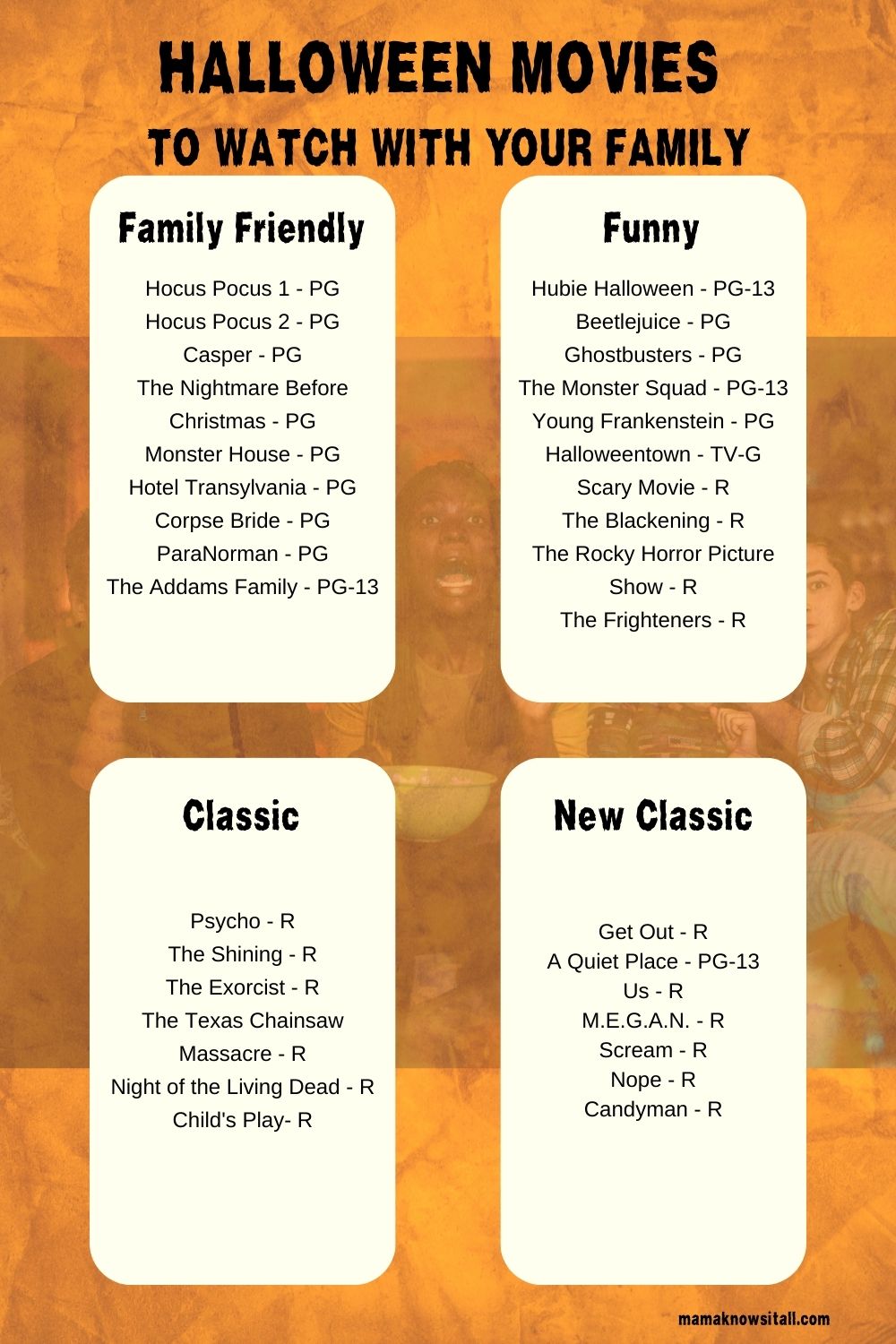 Pick a movie (or two)
I have to be honest, choosing movies that everyone likes can sometimes be the most challenging part of Halloween family movie night.
Since we have a range of ages, we typically go for a fun family film for the main film. After that, my teen and the adults (except for me, the family scaredy-cat) typically want to watch something a little more scary.
We usually watch one or two movies, but you might want to aim for two or three films if you want to do a movie-thon.
Here are some movies your family might like:
Family-Friendly
Hocus Pocus 1 – PG
Hocus Pocus 2 – PG
Casper – PG
The Nightmare Before Christmas – PG
Monster House – PG
Hotel Transylvania – PG
Corpse Bride – PG
ParaNorman – PG
The Addams Family – PG-13
Funny
Hubie Halloween – PG-13
Beetlejuice – PG
Ghostbusters – PG
The Monster Squad – PG-13
Young Frankenstein – PG
Halloweentown – TV-G
Scary Movie – R
The Blackening – R
The Rocky Horror Picture Show – R
The Frighteners – R
Classic
Psycho – R
The Shining – R
The Exorcist – R
The Texas Chainsaw Massacre – R
Night of the Living Dead – R
Child's Play- R
Modern Classic
Get Out – R
A Quiet Place – PG-13
Us – R
M.E.G.A.N. – R
Scream – R
Nope – R
Candyman – R
Get Cozy
It's so important to make sure everyone is comfortable when you're hosting a movie night. No one wants to sit in a stiff chair or lay on a hard, cold floor for 2 hours.
They want to watch Halloween movies, not feel like they've been cast in one!
Make your seating spooktacular with blankets and pillows for snuggling up during the scary scenes.
Consider fun seating options like putting out mats and sleeping bags for a camp-out vibe.
Provide extra blankets for anyone who gets chilly as the night goes on.
Have Fun
Half the fun of movie nights is screaming or laughing together at the jump scares and spooky moments.
Cuddle up under the blankets and enjoy each other's company along with the Halloween fun.
Don't overthink the fun!