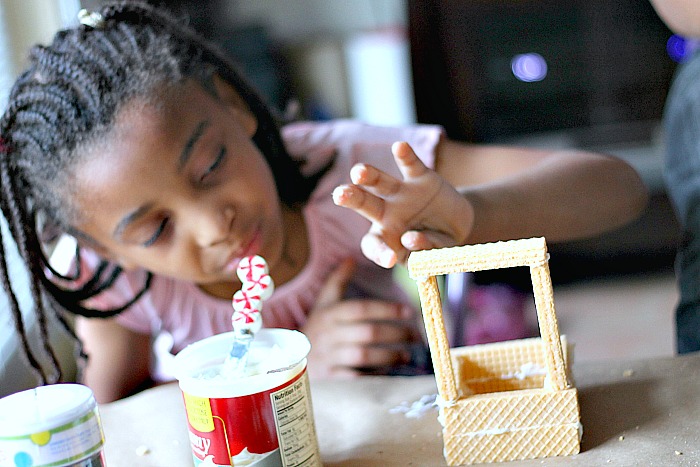 I stand by my belief that one of the best ways to teach kids math and science skills is through cooking.
When I was in grade school, I remember asking my teacher about a difficult problem that didn't make sense to me.
I asked her to tell me how this would help me in life when I became an adult. Since I was all about things that were practical, you can imagine algebra was a nightmare for me. Science wasn't that close behind. I mean x + y = 12? What IS that?
Cooking, though, I get that.
You add things up in the right way, combine the correct ingredients, and bam, you have something delicious to eat. Cooking makes sense.
Ayva is really good with abstract theories so I don't think she'll have the same problems that I had with math and science.
I don't want to be left out of her learning experiences, though, so I discovered a way that I could be a part of it in a way that's both practical and fun.
Yup. Cooking.
We are always in the kitchen testing out recipes. It's one of our favorite things to do together.
Cooking Shows Get Kids Interested In Cooking
Outside of the kitchen, we love to watch shows that are focused on food and cooking.
From Good Eats to Diners, Dine-Ins, and Dives, to the Netflix original series, "The Chef's Table" there's plenty for us to watch and learn from.
Here are some of my favorite cooking shows that are perfect to watch with kids.
1. Nailed It
This show will teach you what NOT to do as a baker!
It's fun to watch real people try to make professional desserts with limited skills.
We have a lot of laughs watching Nailed It. You can check it out on Netflix.
2. How To Cake It
This is another excellent YouTube show that my entire family enjoys!
Although we'll probably never make cakes as gorgeous as the ones Yolanda makes on How To Cake It, it's so fun to watch her create!
3. The Great British Baking Show
Come for the amazing accents, stay for the sentiment.
Our family loves watching this show and learning how to be better bakers.
The Great British Baking Show is a competition show, and it inspires us to get in the kitchen. You can catch up on episodes on Netflix.

4.Gordon Ramsay's Ultimate Cookery Course
While Gordon Ramsay is usually known for being tough as nails, he's so different in this show!
On Gordon Ramsay's Ultimate Cookery Course, it's really great to see the softer side of one of our favorite chefs.
You'll learn so much about cooking through his videos on YouTube.
5. The Chef's Table
This show might be more interesting for older kids, but my tween loves it.
The Chef's Table follows chef's who share their journeys and recipes.
If you like documentaries, you'll love this series on Netflix.

6. MasterChef Junior
I've loved MasterChef every since forever.
MasterChef Junior blows me away with how creative these kids are with food.
My kids and I learn a lot watching this show. Episodes are available on Hulu, and you might be able to find them On Demand (Fox).
7. Sugar Rush
This high energy competition show really inspires us to take risks with our desserts!
We're always so blown away by what the contestants are able to come up with on Sugar Rush.
This show is on Netflix, too.

8. The Big Family Cooking Showdown
If you feel like no other family can touch yours when it comes to cooking, you'll love The Big Family Cooking Showdown.
Sixteen families compete for the top spot in this competition show that you can watch on Netflix.
9. Be Our Chef
If you love going to Disney Parks, you'll love this show.
Families compete to make magical recipes based on fun Disney themes.
Watch Be Our Chef on Disney+.

10. Bon Apetit Test Kitchen
Some of our favorite cooking shows are on the Bon Apetit Test Kitchen YouTube channel!
I highly recommend Gourmet Makes.
Just be prepared, though.
You'll get sucked in to watching ALL of their shows.
Want to take an affordable cooking class at home?
Do you want to learn how to cook?
Check out (affiliate link) Bluprint classes!
They're super affordable and perfect for families to learn new cooking skill step-by-step!
Other posts you might enjoy:
Easy meals your tween can make on their own
Easy Sheet Pan Dinners Even Your Tween Can Make
9 Real Life Expectations I Have Of My Tween Daughter