I visited the set of the movie STARGIRL (now streaming on Disney+)
STARGIRL by Jerry Spinelli has been one of my favorite YA books for years. I read it as a teacher before I had even had kids of my own. Once I had a daughter, I introduced it to her by listening to the audiobook on commutes back and forth to school.
That's why I was over the moon to be invited way back in 2018 to visit the set of the movie adaptation of the book.
You guys have no idea how long I've been waiting for this movie to premiere! Or how long I've been holding back sharing about the site visit.
The book and movie are set in Mica, Arizona but the movie was filmed in Albuquerque, New Mexico. If you've ever been to a movie set, you know how magical it can feel. We spent the day at "Mica High" which was actually a learning center.
There were high school-esque signs hanging up all around, and with the young cast roaming, it certainly felt authentic.
What was it like to visit the set of the STARGIRL movie?
My job as a journalist on the day of my STARGIRL set visit was to sit and wait. It was a working set. That means that they were actually filming scenes while we were there, so our group waited until different actors were available for interviews.
It's quite exciting, though! You never know when an actor is going to have a moment to come in for chat. Right before they entered, our Disney PR host would come in and let us know which actor was on their way in.
All of us would get our notebooks and recorders ready to go. When the actor walked in, we'd cheer and sit on the edge of our seats, tossing out questions.
The cast of STARGIRL were some of my most favorite interviews! There's something pretty sweet about asking teenagers and young adults deep questions.
They're always so earnest with their answers, and I always leave feeling like I learned something I might have already knew—but forgot.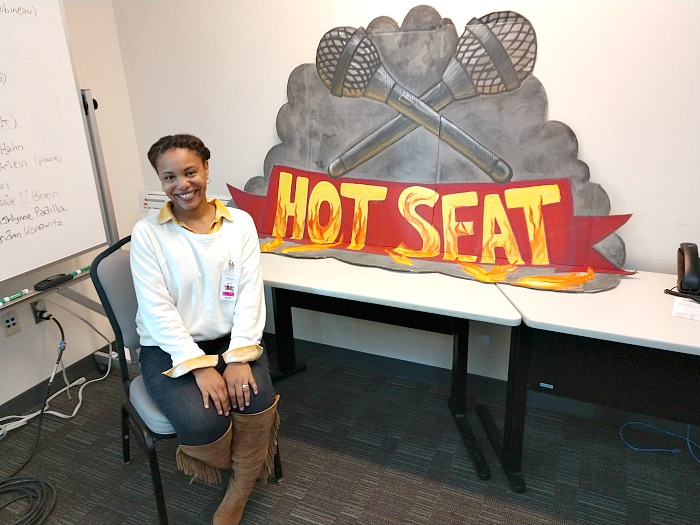 We interviewed 18 people that day. That is not a typo. EIGHTEEN. The day goes fast, though! Some of the interviews are doubled up, and the timing for all of them were really tight.
Curious who we interviewed? Here's everyone we got to chat with:
Grace VanderWaal ("Stargirl")
Graham Verchere ("Leo")
Maximiliano Hernandez ("Mr. Robineau")
Karan Brar ("Kevin")
Anna Brown ("Tess")
Collin Blackford ("Benny")
Juliocesar Chavez ("Ferko")
Artemis ("Mallory")
Shelby Simmons ("Hillary")
Alex James ("Zach")
Director Julia Hart
Writer/Producer Kristin Hahn
Producer Lee Stollman
Producer Ellen Goldsmith-Vein
Executive Producer Jordan Horowitz
Costume Designer Natalie O'Brien
Makeup Dept. Head Ashlynne Padilla
Unit Publicist Wolf Schneider
Oh! And craft services!
The best part of a set visit has to be the craft services. That's the food service that caters meals for the cast. We ate on set and it was so delicious. The head chef was a woman and she was committed to serving food that didn't just taste good, but also was good for you.
There was pasta, chicken, smoothies, vegan options—really there was something for everyone.
It makes me want to go back to acting school. Yup, just for the food!
Want to watch STARGIRL? It started streaming on March 13, 2020 and you can watch it on Disney+ now!
From the studio:
"Stargirl" from Disney+ is a tender and offbeat coming-of-age story based on the critically-acclaimed, New York Times' best-selling young adult novel about an unassuming high schooler who finds himself inexplicably drawn to the free-spirited new girl, whose unconventional ways change how they see themselves…and their world.
Leo Borlock (Graham Verchere) is an average student at Mica High School. He gets decent grades, is a member of the school's marching band and has always been content flying under the radar. But all that changes when he meets Stargirl Caraway (Grace VanderWaal), a confident and colorful new student with a penchant for the ukulele, who stands out in a crowd.
She is kind, finds magic in the mundane and touches the lives of others with the simplest of gestures. Her eccentricities and infectious personality charm Leo and the student body, and she quickly goes from being ignored and ridiculed to accepted and praised, then back again, sending Leo on a rollercoaster ride of emotions.
A celebration of individuality, kindness and the power of the human spirit, "Stargirl" is directed by Julia Hart from a screenplay by Kristin Hahn and Julia Hart & Jordan Horowitz based on the novel by Jerry Spinelli.
The film stars singer/songwriter Grace VanderWaal in her film debut, Graham Verchere, Karan Brar, Maximiliano Hernandez, Darby Stanchfield and Giancarlo Esposito. "Stargirl" is produced by Ellen Goldsmith-Vein, p.g.a., Lee Stollman, p.g.a., and Kristin Hahn, p.g.a., with Jordan Horowitz, Jim Powers, Jerry Spinelli, Eddie Gamarra, Catherine Hardwicke and Jonathan Levin as executive producers.