This savory slow cooker brats and potato meal is sponsored by Johnsonville.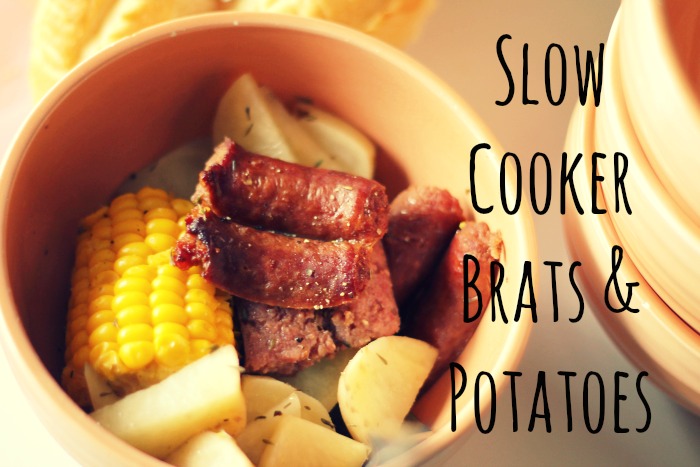 March is a great month, right? Of course it is! It's the beginning of spring! We're outside more, burning lots of calories, and although it's starting to warm up (except for you poor sweet souls on the East Coast), that doesn't mean we can't still indulge in comfort food. In fact, easy to make comfort food should absolutely be in your menu plan rotation, and double points if you can use your slow cooker to make it. Well, who wants to be chained to a stove when you could be taking advantage of the longer days? Put that food in the slow cooker and get outside and have some fun!
Y'all know how much I love my Johnsonville Sausage, and this month I made a dish that would be perfect for everything from after church to those college basketball games everyone's been watching lately. Johnsonville Brats take me back to my early teens in Germany when I'd order bratwurst every time I went out to eat with my family. I used to love the way the the brats tasted inside of the crusty bun (brochen), and didn't even need mustard or any other condiment because of their full flavor. Johnsonville Brats have that same flavor that I remember from so many years ago. With flavors like Beer 'N Brats, Cheddar, and nearly a dozen more, there's a Johnsonville Brat for everyone in your family. We don't eat much pork, so I made this dish with the Beef Brats. It tasted so good.
Slow Cooker Brats And Potatoes
Ingredients
-1 package Johnsonville Beef or Beer Brats
-1 clove garlic chopped
-1/2 cup of beer
-2 large potatoes
-1 package of 8 small frozen corn cobs
-salt & pepper
-thyme (and other seasonings to taste).
Directions:
Cook the brats on the stove until browned. Peel the potatoes, cut into chunks, and place inside of the crock pot. Add the clove of garlic, the brats, and the corn. Season to taste. Add the beer and cook in the slow cooker for 3.5 hours on low.