This shop has been compensated by Collective Bias, Inc. and its advertiser. All opinions are mine alone. #LoveDoveFruits #CollectiveBias

The last couple of months have been pretty hard for my family. We've dealt with quite a few setbacks, and it's definitely taken its toll on my husband and me. We're fortunate, though, to have friends and family who support us and keep us lifted up even when we're feeling down. I wanted to do something special for some of those folks, the thoughtful and caring women at my church who are always checking in on me so I decided to throw a craft party. Not only was it a way to celebrate them, but it was also a chance for me to get out of the house and do something fun to take my mind off of all of the crazy things going on in life. The party was a fun distraction, and actually ended up being the springboard to a fantastic week filled with miracles.
Speaking of fantastic, the star of our party (besides the awesome guests, of course) were the DOVE® Fruit candies. They're delicious pieces of whole fruit dipped in dark chocolate. They are a "better for you" treat that I knew my friends would enjoy. I brought bags of them to eat straight from the bowl, but I also wanted to create a yummy treat to take the candy to another level. Since a few of my guests are gluten free, I decided to make Coconut Macaroons. They were surprisingly easier than I thought to make!
Coconut Macaroons
Ingredients
-4 large egg whites
-1/2 cup granulated sugar
– 1 teaspoon vanilla extract
– 3 cups sweetened shredded coconut
-1/4 teaspoon salt
-1 bag of DOVE® Fruit Cranberries
Directions
Preheat the oven to 350degrees F and line a cookie sheet with parchment paper.
Combine the egg white, sugar, vanilla and salt in a bowl and whisk until totally combined.
The mixture will be frothy.
Pour the coconut in the bowl and mix until moistened throughout.
Scoop small rounded balls of the coconut mixture on the cookie sheet. Top each ball with a DOVE® Fruit Cranberries candy, or shape the coconut around the candy so that it's in the middle.
Bake for about 20 minutes or until the edges of the coconut are brown.
See more great DOVE® Fruit recipe ideas on the DOVE® Fruit social hub. You can also download a coupon to save on your DOVE® purchase.
The Party
I was inspired by the DOVE® Fruit candy for the menu and the party activity. The sweet fruit surrounded by rich dark chocolate was the perfect muse, too! I kept the food light but filling including a large salad studded with cranberries, crusty bread with turkey pepperoni and cheese, and of course, the coconut macaroons. Sparkling water and fruit and veggies completed the healthy spread.
After we ate, we cleared the table and started our craft activity. In keeping with the fruit theme, we created "Fruits Of The Spirit" mugs. I purchased a bunch of plain white coffee mugs, oil based Sharpies, and encouraged my guests to go crazy with their creativity. I loved seeing how everyone interpreted the theme while laughing and singing (my friend Josie suggested a "hymn sing"!). The coconut macaroons were a hit, we ate nearly 6 bags of the DOVE® Fruit Cranberries candies that I purchased from Walmart, and we left the evening with our hearts and bellies full. It was the just the pick me up that I needed, and the perfect way to celebrate my sisters!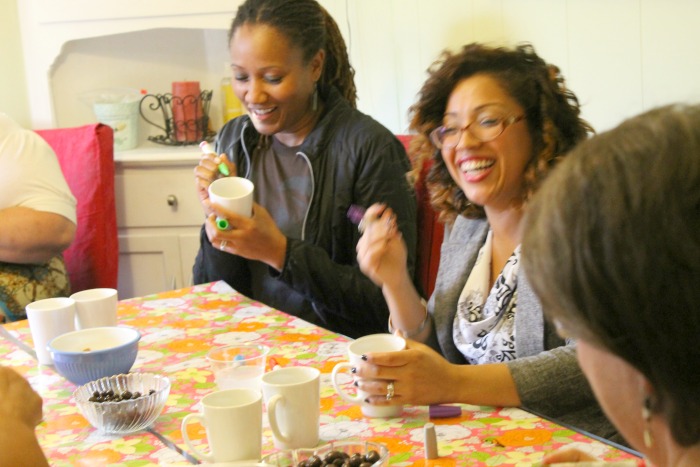 You can purchase DOVE® Fruit at Walmart. I found them at the front near the registers! Don't forget to get your coupon!