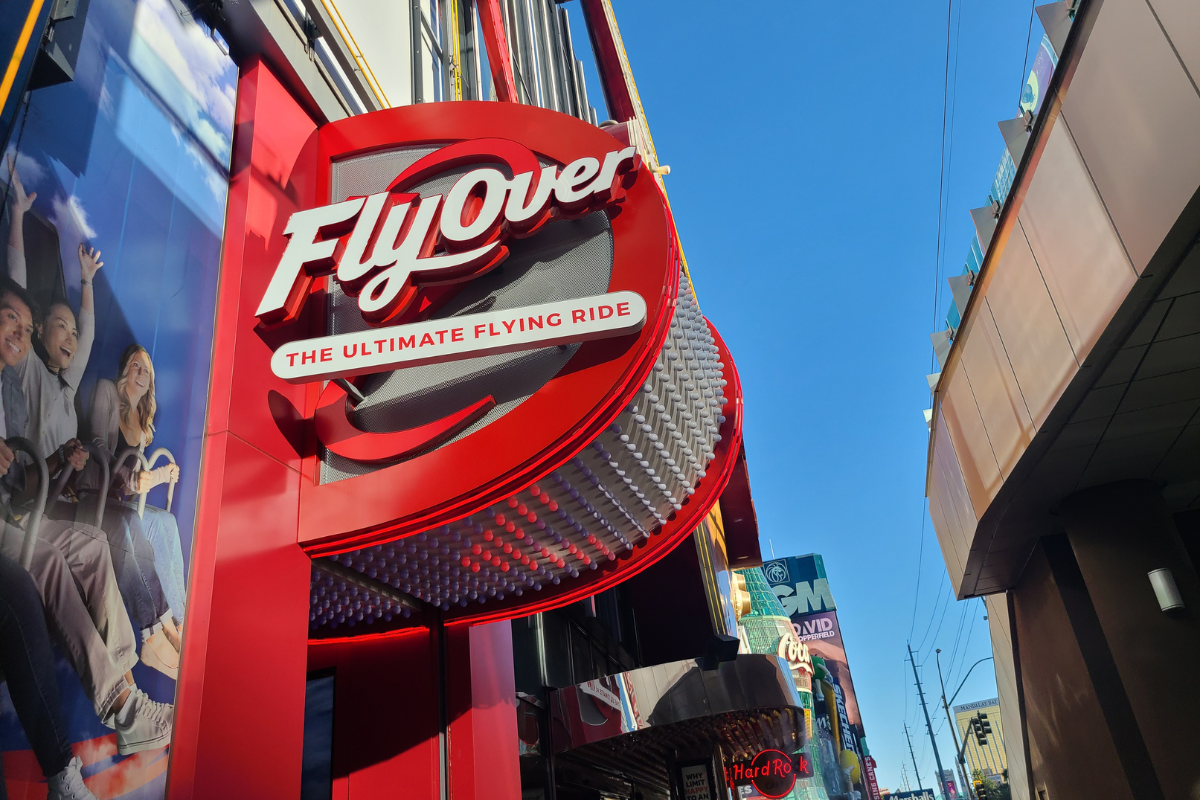 I recently had the incredible opportunity to check out FlyOver in Las Vegas thanks to an invitation from their PR team.
After trying all 3 of their amazing flight experiences, I can definitively say it was an absolute blast!
Before I get into all of that, I need y'all to understand that I LOVE Las Vegas.
My entire family does, actually.
Kids, husband, in-laws, every last one of us!
It's close to the Bay Area (about a 2-hour flight), the weather is my favorite, and there's so much to do in the city.
Believe it or not, Las Vegas is super family-friendly.
While the bright lights and excitement of the strip are always fun, I'm always looking out for unique, family-friendly activities in the area.
We love cool museums, outdoor activities, and the like, and Vegas has no shortage of those things.
For example, my husband and I went on a hot air balloon ride in Vegas for my birthday a few years back!
FlyOver is perfect for my family because it's an off-the-beaten-path, but a still-on-the-beaten-path adventure with its location right on the strip.
Oh, and it definitely helps that it's right across from the Fashion Show shopping mall, and near Planet Hollywood which has fab rooms for fams.
About FlyOver
Walking into FlyOver feels like stepping into a different world.
When you first walk in, there's a calming hallway with blue lights that immediately puts you in a peaceful mood.
It's very sleek and spacey!
The hallway ends in a cozy but modern lounge area with The Lost Cactus Bar & Lounge on one side, and a gift shop on the other.
Before our flight, we took some time to check out the gift shop, which had a cool assortment of Vegas-themed souvenirs.
We also had an opportunity to get our photos taken to remember the fun occasion.
Tickets to FlyOver costs $32-$39 with rates as low as $22 for kids.
You'll get the best price when you purchase online ahead of time.
You can also pick up double ride bundles, or a ride + drink experience.
The Flights
One of the best parts is that FlyOver offers 3 completely different flight experiences to choose from.
I had the chance to try them all! The three options are:
American West Coast which soars over the Grand Canyon, Vegas Strip, San Francisco, LA, and more iconic Western landmarks.
The Canadian Rockies is an incredible virtual tour of the mountains, glaciers, and vibrant cities of western Canada like Vancouver and Banff. The views were stunning and I loved learning more about the history of this beautiful region.
Iceland is the newest adventure that flies you over Iceland's beaches, thundering waterfalls, and incredible landscapes.
No matter which option you choose, the experience is completely immersive.
The state-of-the-art 4D design, including wind, mist, scents, and motion made it feel like we were really soaring over each incredible destination.
The Experience
The one word I'd use to describe the experience would be euphoric.
I didn't expect to be so emotionally moved during the flights.
From the music to the scent (which they should totally sell) and the cinematography, I can't imagine a cooler way to see some of the places we visited.
Know that the theater is dark, and you'll need to put your bags under your seat.
The seat does move, so you'll be buckled in, and the FlyOver guide will check them.
I've been prone to motion sickness on some rides, but I didn't experience that with any of these flights.
Because I'm sensitive to motion, though, I will say that I felt like the Canadian Rockies flight was a little more move-y than the other two.
Oh, and there is a little bit of mist when you're flying over the mountains and ocean at some points, but I found it to be refreshing!
My family asked what my favorite flight out of the 3, and I had a hard time answering.
If I had to choose, I'd probably pick Iceland because I've never been there and the ride was breathtaking.
After the Flight
After our flights, our group headed to The Lost Cactus Bar & Lounge, the on-site bar.
It was a nice spot to relax and talk about our favorite moments from each journey.
Oh, and they have some incredible, creative drinks at The Lost Cactus, too!
I tried a couple of mocktails, and loved both the Gold Rush (orange juice, ginger ale, white grape juice, gold brew glitter), and the Gremmie (soda water, lime, mint, hibiscus simple syrup).
Our whole experience lasted nearly 2 hours, including the pre-show, multiple rides, time in the gift shop, and drinks at the bar.
That said, you could easily wrap up one flight in under an hour if you were short on time.
FlyOver fits seamlessly into any jam-packed Vegas itinerary.
It's perfect for families, friend groups, couples, or solo travelers.
I highly recommend adding FlyOver to your Vegas bucket list if you're looking for something unique in Vegas.