The Easter Bunny is at Great Mall in Milpitas! Find out more about his visit in this sponsored post.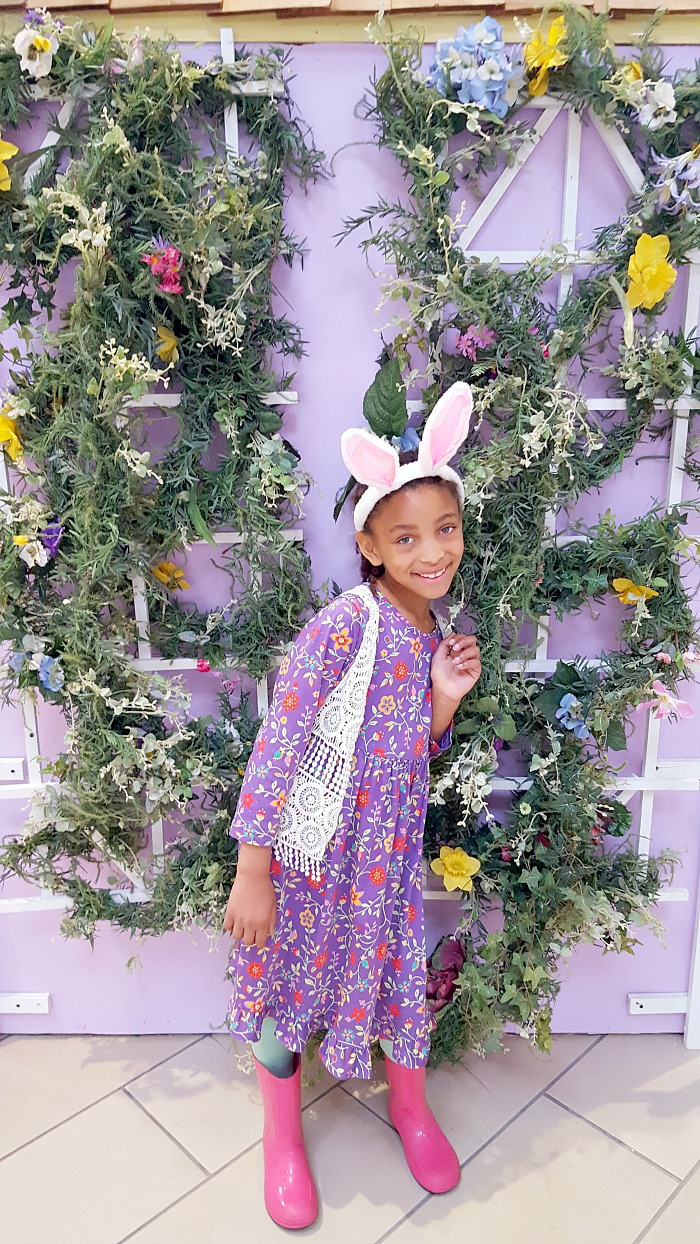 What are some of your Easter traditions? Besides church, Easter is always a good time for our family to take new pictures, especially of the kids. It's so fun seeing how much they grow from one spring to the next, and they look super adorable dressed up in their brightly colored threads. This year, we did something a little different. We headed down to Milpitas to Great Mall to take pictures with the Easter Bunny.
Coming from a bigger city, I never took Ayva to get Easter Bunny pictures before. It didn't matter how early we would get there, the line was super long, so I just gave up. Thankfully getting pictures at Great Mall wasn't a hassle at all. We arrived around thirty minutes after the mall opened, and there was only one family ahead of us! The photographer let us know that things would definitely get super busy later, but he still worked to get folks in and out really quickly.
The Easter Bunny was a sweet guy, too. He wasn't aggressive or pushy with the little kids, and didn't try to treat my 7-year-old like a baby. The entire experience was smooth and easy, and I can't wait to come back next year with our little baby boy in arms!

There's a lot more going on at Great Mall besides the Easter Bunny, too. Families can register for the Kidgits Club to take part in fun special events and programs like Hop Into Spring. There are also a lot of huge sales going on at all of our favorite stores, so it's the perfect time to stock up on spring and summer clothes.
After you get your Easter Bunny pictures and do a little shopping, make sure to stop at Andersen Bakery for a delicious sandwich or pastry. There are also other eateries like Chipotle, Olive Garden, and more if you're in the mood for something more hearty. We spent a fun morning at Great Mall, and had a good time!
Visit the Easter Bunny at Great Mall
The Easter Bunny is ready to take pictures with your kiddos from now until April 15 at Great Mall in Milpitas. His schedule for the rest of the week is:
Sunday, April 9: 11AM – 6PM
Monday, April 10: 10AM – 8PM
Tuesday, April 11: 10AM – 8PM
Wednesday, April 12: 10AM – 8PM
Thursday, April 13: 10AM – 8PM
Friday, April 14: 10AM – 8PM
Saturday, April 15: 10AM – 8PM
Get there right when the mall opens, and you will likely miss any crowds. There was just one family in front of us when we went! Photo packages start at $24.99, and you'll receive a gift from Shutterfly with a purchase over $29.99. Have a Hoppy Easter!