I've teamed up with my friends at Zappos and Crocs to share some old school games for fun!

What are your favorite games from back in the day?
Do y'all remember how excited we would all get back in the day when it started staying light outside longer, and the weather warmed up?
After we finished our homework (and sometimes before!) we would hang out in the neighborhood with our friends playing games that didn't require electricity or wi-fi.
You know what I'm talking about, right?
Games like tag, hide-n-go seek, and running races.
Man, kids back in the day knew how to have fun!
I was recently reminiscing about the games I used to play with Ayva, and was surprised to discover that she didn't know half of them.
What do kids do at recess nowadays? I mean, really!
Because no child of mine will grow up not knowing how to play 4 Square, I told her that I would personally introduce her to all of the cool games I used to play when I was a kid.
Really, there is no doubt that Ayva's going to totally be into the games. She loves everything that I loved going up.
From television shows to fashion, Ayva is basically following in my footsteps. Whatever I liked back then, she likes now, and that goes all the way down to our shoes.
For example, I used to love jellies. Like LOVE. I'm talking BEGGED for them. Ayva? Same thing. She can't get enough of the adorable styles that Crocs has, and neither can I.
They take me back to the days when all I had to worry about is what fun game I was going to play next!
I ordered both Ayva and myself a few adorable pairs of Crocs from Zappos for old times sake. Zappos has fast, free shipping, and a 365 day return policy, so I was confident that if they didn't work out, I could send them back. I had no reason to worry!
The jellies are just as comfortable as every other pair of Crocs, so it was all good.
On Brandi – Crocs Isabella Flats On Ayva – Crocs Kids Isabella Jelly Flat GS in Coral
4 Old-School Games to Play With Your Kids
Hopscotch // Hide-N-Go Seek // Freeze Tag // Dodgeball
Do those names bring back memories? The best part about all of these games from back in the day is that you don't need a whole lot of equipment. Just get some chalk, maybe a ball, and you're good to go.
Hopscotch
Draw a diagram on the ground with 10 sections. Number the sections 1 – 10. Throw a rock into the first square without touching a line, then hop through the course, skipping the square that the rock is in. Continue until you get to 10.
Hide-N-Go Seek
Pick someone to be "It". Determine where home base is going to be. The person who is It counts to 10 with their eyes closed. The rest of the players hide. When It gets to 10, they find the players. If the players touch home base before they are found, they are safe.
Freeze Tag
Pick someone to be "It". On the count of 3, players run around the space trying not to get tagged. If they get tagged, they have to freeze until another player unfreezes them. If they move while they're frozen, they become it.
Dodgeball
Split into 2 teams. Each team throws a ball at the other team and tries to hit a player. When a player is hit, they are out. The team withe the last person standing wins.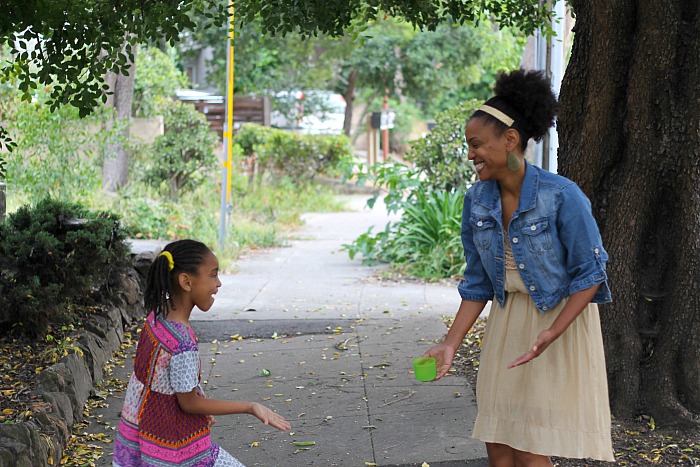 Here's a newish game that Ayva and I love that is sure to become a classic:
The Cup Game
Hit a lightweight cup (paper works best) back and forth to each other without letting it touch the ground. Each hit counts as a point, and when you get to 10, you win! Here's the catch—you can't hit the cup twice in a row.
Keep it Simple
Don't forget the value of real simple fun like playing tic-tac-toe, jumping rope, or just digging in dirt, pretending, and exploring! It's what we did when we were kids, and all of us turned out okay, right?
I love technology just as much as the next blogger, but our kids don't have to always be entertained by a screen. Give them some chalk, push them outside, and let them find their fun with these games from back in the day.
Even better…introduce them to it!