Has your period ever come on at school?
Mine has, and I was so embarrassed at the time.
Picture this. Middle school. Boys. Light-colored jeans and a shirt that didn't cover my butt. Y'all, I was mortified to leak through my pants!
That was the first unfortunate period accident, but it wasn't the last.
Now, however, decades later, I'm an expert at knowing what to do when your period comes on at school!
How do I dress at school when I'm on my period?
Back when I was in school, I would never wear light pants when I was on my period.
My cycle was heavy (which I later learned was due to fibroids) and I felt more secure knowing that if I had an accident, I'd have time to clean up without anyone noticing.
Things are different now. Period products like menstrual cups and discs make leaks less likely, but they still happen.
What do you wear to school during your period?
Whatever you feel comfortable in.
Consider that you might be feeling bloated or a little crampy, so comfy, soft clothes are probably the way to go.
Check out these options:
Joggers
Yoga pants
Running shorts
Loose tee-shirts
Oversized sweatshirts
Cotton jumpers

Keep a period kit in your backpack.
Even if your period hasn't started, you should make and carry a period kit for when it does start.
Your period kit should have pads and hand sanitizer at a minimum.
There are so many other things you could include such as ibuprofen, wipes, and more.
Learn how to make a first period kit.
What if I start leaking when my period comes on at school?
Accidents happen. Ask any person with a period that you know and they'll probably tell you they've had an unexpected leak.
I'm not going to lie and say that it isn't embarrassing or uncomfortable because it is.
But it doesn't have to be the end of the world.
If your period comes on at school and you have a leak, here are a few things you can do to manage it:
Wrap your jacket or sweatshirt around your waist to cover the stain.
Let your teacher know that you have an emergency.
If you don't want to call attention to yourself, you can have a friend call the teacher over to you so that you can tell them that you have an emergency discreetly.
Go to the bathroom and change your pad or empty your cup, or put one in if your period is just starting. (Make sure you always keep a period kit in your bookbag)
Change into gym clothes if you have them.
Call a parent and ask them to bring you more clothes.
Ask a friend if they have an extra pair of clothes that you can borrow.
Read: Foolproof Period Cramp Relief Tips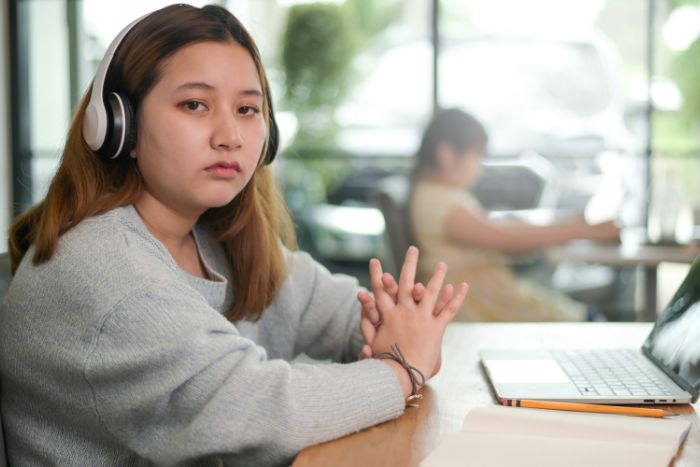 Keep track of your period to help prevent accidents.
After a few times of being unprepared for my period at school, I learned to track my period so I know when it's going to start and can make sure I have period supplies with me.
If you need a tracker, I have one for you!
You can click to download the journal for free, or if you'd prefer a physical copy with an adorable cover, get it on Amazon for less than six bucks.