Tropical Island is an indoor water park located outside of Berlin, Germany.
I turned 40 last October, and for my present, my husband gifted me a family trip to Berlin, Germany. I had spent a few years of my adolescence in the country and it was on my bucket list for the entire Riley crew to see where I grew up. We chose to go in the early spring because it was right before Jamie turned 2 and it would be cheaper than to have to purchase another full price ticket to bring him along!
Spring in Berlin isn't known for being particularly warm, and for me, in order for a trip to be a vacation, there has to be swimsuits and sunshine at some point in our journey. Tropical Island gave us all of that.
Tropical Island is a water park that is located in Brandenburg, Germany. It's about an hour drive from Berlin. The water park is housed in a humongous old aircraft hangar and features everything you'd expect at a water park, including big slides and sand! I was counting down the days to get to Tropical Island even before we left the states because of the promise of some good R&R.
It did not disappoint!
It cost 44 Euros for Terrence and me, a reduced rate of 35 Euros for Ayva and my mother-in-law, and Jamie was free since he's under 5. For a small additional fee, we could have had access to the sauna, too, but we knew we weren't interested so we opted out.
What should I expect when I go to Tropical Island?
When we arrived on site, we were able to get parking very easily in the lot right outside of the front door. We walked in and went right up to a teller to purchase our tickets. At that point, we all received wristbands that would allow us to purchase things around the water park. We didn't have to put any money on it until we left, which is super smart on their part! We also received a locker assignment.
If you are sensitive to heat or chlorine, I have to warn you that it's super muggy when you first walk in. It took us all a few minutes to get acclimated to the temperature and the smell. By the time we got settled into our chairs in the water park, we were fine. If you have breathing problems, though, it might be a bit uncomfortable.
After we checked in, we walked to the large, open locker room and found where we could drop our things off. We used our wristbands to open them up. There are a lot of folks in various states of undress in the room. When you go to Tropical Island, remember that it is Europe and they're a little less prudish about nudity than we are here in the US. No one was fully naked, though, but it can still be jarring at first to see a little bare tushy here or there.
Once we put our things away and stripped down to our swimsuits, we headed towards the water park area. Don't forget your water shoes or flip flops because the floor does get warm. And you're in a water park. Obviously. I'd also recommend stopping at the bathroom before you head down because there isn't one in the park area.
On the way to the water park from the locker room there were all sorts of cool areas depicting various tropical regions to take pictures. We also passed a candy store that I had to drag my children kicking and screaming away from! I stopped to take a few pictures, but no one really wanted to. At this point, we were all ready to get in the water!
When we reached the water park, we found our chairs and set up our station. There were tons of beach chairs available on the day we went, and the only thing we had to do is find a set that weren't directly in the line of sunlight from outside.
I have to stop for a second to gush about the sunlight. Although it was 40 degrees outside, it felt lush and tropical inside! The sun was shining through the glass of the hangar and I truly felt like I was on vacation at the beach somewhere. I could have stayed there forever.
Is Tropical Island a good place to take kids?
My kids loved Tropical Island. Jamie stayed on the side of a tiny little wading stream playing with sand for most of the time. There was a kiddie slide, but I wasn't allowed to go down it with him and he didn't want to go down himself. That didn't matter, though. Between the shower sprinklers and the sand, he had a great time. There were lots of other toddlers around, too, and they all played together. It didn't matter that they didn't speak the same language since no one knows what toddlers are saying anyway! Ha!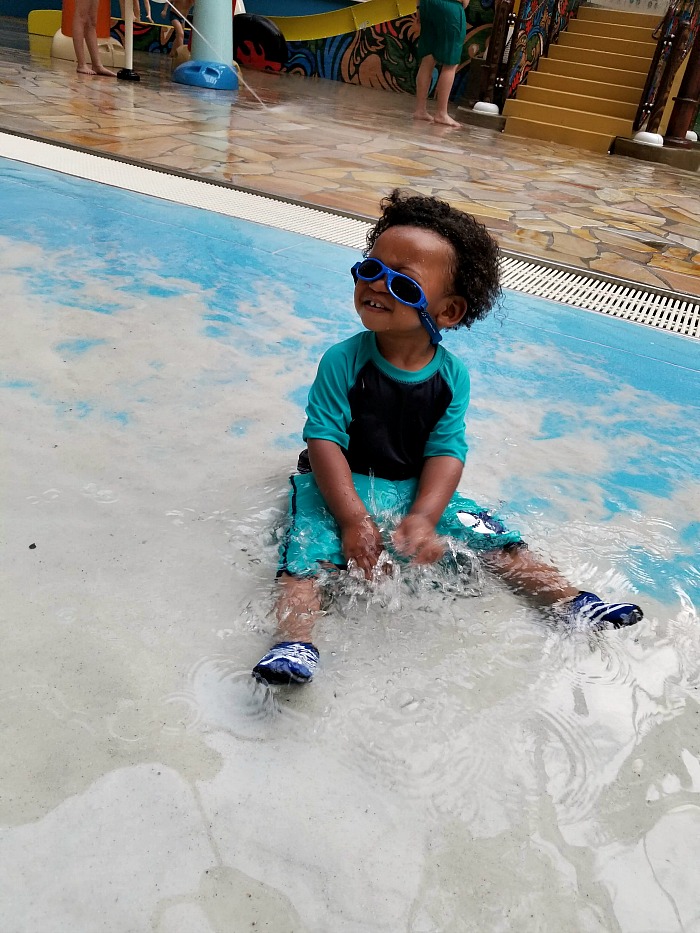 Ayva was able to do a lot more since she's older. She went down the big slides and went to explore with Terrence. They were gone for about 30 minutes at one point and came back soaking wet. I asked what they had been doing and they told me they were swimming outside! I couldn't believe it and they walked Jamie and me down to see what they were talking about.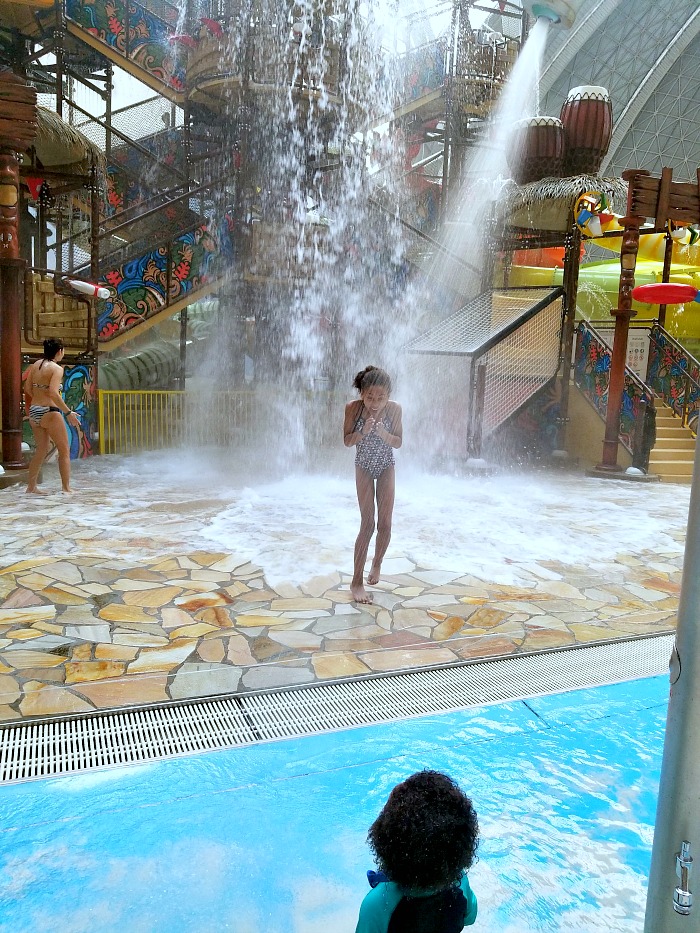 Imagine my surprise when I saw a revolving door in a pool leading to people swimming in a big pool in the cold! Terrence and Ayva swore up and down that the water was warm and that it felt great, but I had to see them do a couple of laps in the pool until I was convinced. After all, it was my vacation. I wasn't going to miss the opportunity to do something I'd never done before! I'm so glad I went out there. It was my favorite part of Tropical Island!
There are lots of options for food at Tropical Island, and a great selection for kids. We ate lunch at a cafe right off of the water park area. The food was okay, but if we had explored a little bit, there was a cafeteria with more kid-friendly options down the stairs. We did discover frozen yogurt and ice cream down there, so all was good.
The other thing that was interesting about Tropical Island were the hot air balloons! An entire family can fly in a free floating or tethered one, and you can see the entire Tropical World. I had just gone on a hot air balloon ride in Vegas, and Ayva wasn't interested, so we didn't do it. If we stayed longer than a day, though, I definitely would have talked the fam into it.
A playground for little kids and mini golf rounded out the park experiences outside of water play. Seriously, this place was filled with things to keep you busy. We stayed for 7 hours and neither of my kids, not even the baby, were ready to go home afterwards.
Tropical Island does have accommodations if you want to stay on site. There are tents, luxury tents, rooms, and lodges. They also have a camping area offsite very close to the building.
Would I recommend Tropical Island if you're in the Berlin area? Absolutely. It was one of the highlights of an already pretty fantastic trip for every member of our family!