If you ask any mom what her favorite part of parenting is, it's likely that her answer (after the kisses and snuggles) is planning a surprise for her little one.
Want to surprise your daughter on her birthday?
Or maybe you just want to celebrate her on a random day just because.
Either way, you're in the right place!
Parents just LOVE giving surprises.
One of my most favorite memories involves a surprise.
I put up our Christmas tree when Ayva was only 2.
I hung most of the ornaments, leaving a few for her to hang.
Before I brought her into the living room, I turned on the tree lights, then I called her to come downstairs.
She was concentrating on making it down the steps so it took a few moments before she noticed the tree.
Once she did, though, she was completely still.
Her eyes were huge, and slowly a huge grin spread across her face until she was laughing and screaming at the same time.
"Look, Mommy! The tree!"
For the rest of the evening she could only talk about how beautiful the lights were and how much she loved our tree.
Surprise Your Daughter and Make Memories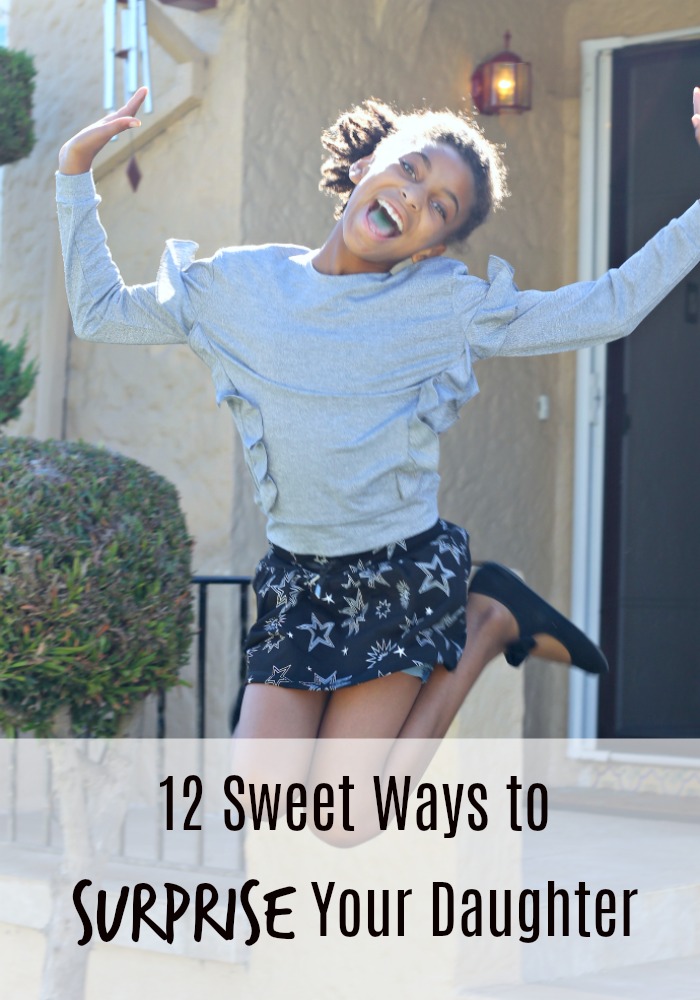 Read 25 Ways to Empower Your Daughter
That night was one of my most favorite motherhood memories.
Not only will I never forget it, but I'll spend the rest of my life working to evoke the type of joy that my baby girl had that night.
Ayva still loves surprises, and I still love seeing her happy, so I'm always looking for ways to surprise her.
I keep coming up with new things because her reactions are just so good.
Tips for a Great Birthday Surprise
Before you decide how you're going to surprise your daughter, there are a few things to keep in mind.
Make sure the surprise is something she will like. Yes, it's the thought that counts, and your girl will probably still be grateful. But if this surprise is for her, find a surprise that she'll like.
Remember that you are enough. Spending time with your daughter, or putting thought into a surprise is enough. You don't have to go overboard and go into debt.
Have it recorded! Whether you hire a photographer or just have a phone nearby to record her reaction, this is a crucial piece of the surprise puzzle!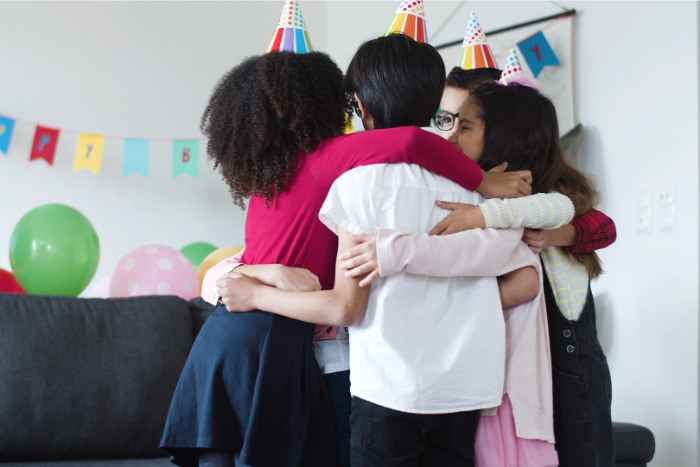 Now that you have these tips under your belt, you're ready to go off and plan your surprise.
Not sure what kind of surprise you should do? I've got you covered.
I started a list of ideas to surprise and celebrate Ayva.
These are all things that she and I have done together for her birthday or other times, and really enjoyed.
I'm sharing them with you so that you can surprise your girl, too!
12 Sweet Ways To Surprise Your Daughter On Her Birthday or Anytime
My daughter loves surprises, and I love seeing her happy, I'm always looking for ways to surprise her. I started a list of ideas of a few sweet ways to surprise my daughter, and want to share them with you so that you can surprise your girl on her birthday or just randomly, too!
Surprise Makeover
Decorate her bedroom door while she's asleep or away at school. Extra points if you switch it out periodically for different seasons or holidays!
Skip School
Pick her up early from school and take her on a Mommy / Daughter date to the movies or out to lunch.
Change Locations
Bring a blanket into her room and lay on the floor to read her bedtime story. That tiny little change will feel so special to her, and she won't be expecting it.
Take Her To Work
Take her to work with you one day. Instead of a babysitter or camp for school breaks, take your daughter into your office with you. Don't forget to treat her to lunch!
Give Her a Manicure
Set up a fancy manicure station at home and do her nails. The key to the surprise is setting it up without her knowing, calling her into the room, and then pretending you're a chic manicurist.
Make Lunch Special
Put something special in her lunchbox. It could be a note or a little trinket.
Slumber Party
Have a slumber party with her and sleep in her room all night. Get matching pjs and don't tell her until bedtime.
Let Her Eat Cake
Make a fancy mini cake and eat it on party plates with ice cream. Get a special cake that features something she really loves. It'll blow her away!
Let Her Choose Dinner
Cook or take her out for all of her favorite foods for dinner. Even if it's pancakes. Even if it's an ice cream sundae. Her special day, her choice!
Send Her Mail
Send her a card or letter via snail mail. Tell her how much you love her and how proud of her you are. Or you could send her a gift through the mail that she's not expecting!
Create a Photo Book
Make a photo book for her. I made a haiku poem book for Ayva when she was little that we love to read together now.
Journal With Her
Start a Mommy & Me journal with her. Just take a notebook, write something in it to her, and tell her to write you back. Keep going back and forth until you're out of paper. Put it on her pillow so she sees it when she goes into her bedroom.