Are you looking for a fun way to connect with your daughter? Make a Mommy & Me journal!
When my daughter was little, she and I were used to being together all the time.
That changed when she started elementary school.
Between school, and all of the activities filling up her schedule, it was hard to find time to connect.
We were always on our way somewhere, or about to do something.
I knew that this was the beginning of a new way of life for us, and I didn't want busyness get in the way of us staying in touch with each other.
I started journaling with my daughter
So, I decided to start a new tradition: every night, my daughter and I would write to each other in a mommy and me journal.
She had about 30 minutes before lights out when she'd lay in her bed relaxing and reading a book.
I asked her if she'd be willing to write to me during that time, and with a big grin she agreed.
We decided that we'd make two journals that we could pass back and forth so that neither of us had to go an evening without being able to write to the other person.
She and I were both excited to get started, so we jumped right into it that night.
We took a couple of composition books we had laying around and decorated them.
How to make a mommy and me journal
Yes, that is correct. We used simple composition books to make our mommy and me journals.
I didn't want to overcomplicate it. My girl and I just wanted to connect.
We each decorated a book using butcher paper, washi tape, and stickers.
I added instructions on how to use the journal in the front, and we were done.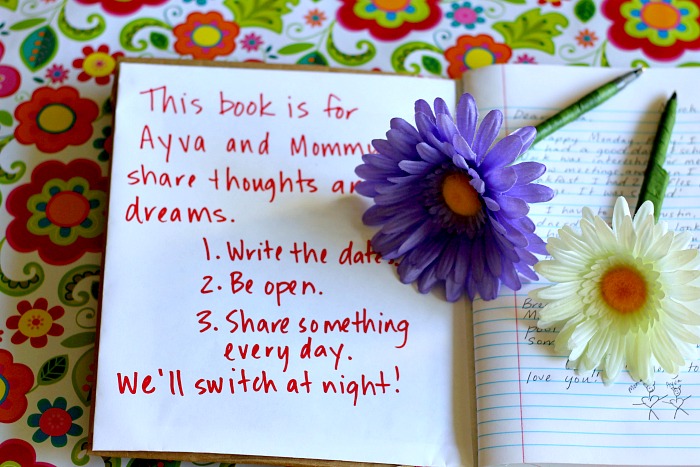 What to write in a mommy and me journal
It's helpful to have a few prompts ready if you make a DIY mommy and me journal.
We didn't, and after a few days my daughter said she wasn't sure what to write about.
I came up with a bunch of prompts and we chose one each night.
Here are few to get you started:
If you and I could travel anywhere in the world together, where would we go?
What's something about you that I don't know?
What are you really good at?
Describe yourself as a friend.
What's something that always makes you laugh?
You can also search Pinterest for more journal prompt ideas.
Remember, journaling with your daughter is supposed to be fun, not stressful.
If you decide coming up with prompts are too difficult, head over and pick up my journal, Just Us Girls: A Shared Journal For Moms and Daughter.