Our apartment has been decorated for Christmas for nearly a month now. The one room we hadn't decorated, though, was Ayva's bedroom. She had been asking for us to add a little holiday festivity to her little colorful little space for awhile, and earlier today, we finally did. She and I made a simple beaded garland that only took about 30 minutes to make. I came up with the idea and bought the supplies, and Ayva designed it and did all of the work. It worked out perfectly for both of us!
First, we selected a string of beads. We were fortunate because Kmart had some really fancy choices, as well as colors outside of the traditional Christmas colors. Ayva loves purple, and it goes with her bedroom, so purple beads were a perfect fit for her. Next, we picked out shatterproof bulb ornaments, as well as an ornament to serve as the garland's focal piece. The only thing I would do differently is purchase some hooks that match the garland. I knew I had some at home so I didn't buy any while I was out, but I only had green, and it would have been nice to have silver to match the string of beads.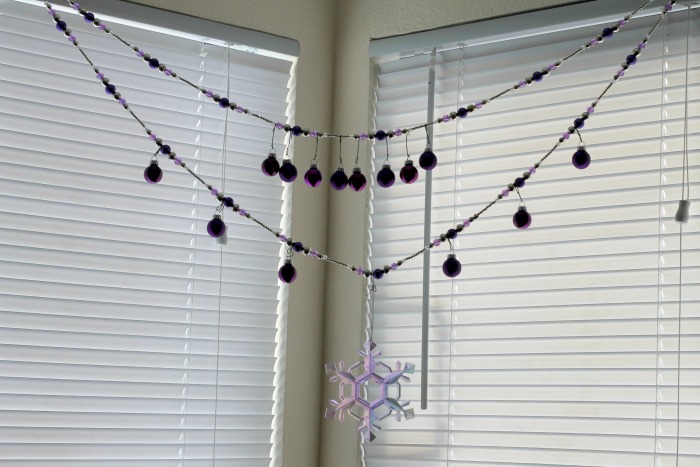 Once you have your supplies, just decide how you want your garland to look. Plan out where you're going to hang the ornaments, and use hooks to connect them. Finally, figure out where you want to hang the garland when it's done. Ayva doesn't have a lot of wall space because she has so much other stuff hanging up, so we put it up across her window. Now, I wouldn't hang this over her head as she sleeps, because the star ornament could be dangerous if it fell on her, so choose carefully when you're hanging it.
I loved this project, because it was a chance for Ayva to work on her small motor skills a bit, and it's just really lovely to look at. I wish the picture of the final project was better, but I hope you still get the point!