Over the last few months, our weekends have been so packed that we haven't had the chance to do anything just for fun lately. Between rehearsals and meetings and work, we've been slammed. It just so happened that we were able to sneak away for a little bit last weekend, so we headed over to to the Lakeshore Learning store in San Leandro to hang out for a bit. Every Saturday they have free arts & crafts from 11 AM – 3 PM, so we popped in to see what they were working on.
Every week there is a different project to complete. Last week, the children made rainsticks. This week, they were able to decorate "Boo!" glasses. The associate who was leading the craft was very attentive and made sure all of the little artists had what they needed to be able to have a fun experience.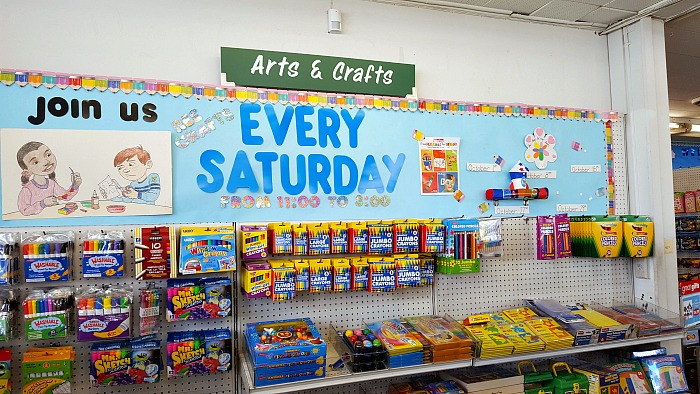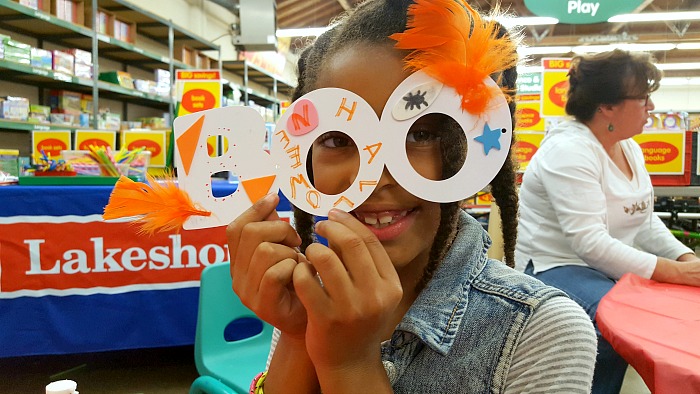 As Lakeshore Learning Blog Ambassadors, we probably know all of the products that Lakeshore has to offer. From toys to learning products, supplies, and more, we like going to the store to get a hands-on feel for the products that we're interested in. Did you know that Lakeshore Learning stores will open up any item you want so that you can get a closer look? Customer service doesn't get better than that!
There's a lot going on between the upcoming holidays and tons of birthday parties, so we were glad that we were able to stock up on some craft items that we're going to need over the next few months. Our friends at Lakeshore Learning sent us a Super Safe Paper Center which is going to be perfect for all of the homemade wrapping paper we plan to make. In addition to that, we received the Design and Wear Clay Charms to start on Christmas presents for Ayva's friends, and the Giant Stencils Box filled with stencils for us to make holiday greeting cards. Y'all KNOW we love showing you cool things on Facebook Live, so join us tomorrow (Tuesday, November 1st) at 4:30 PM PST / 7:30 PM EST to see us demonstrate another one of our Lakeshore products, the Spiral Art Design Center!
We've been scouring the 2016 Gifts for Growing Minds Holiday Collection catalog for weeks, so it was nice to check out some of the products we've been circling and putting on our wish list. Naturally there were tons of STEM products that make the perfect gift for Ayva's age. She's really interested in being challenged at this point, and is always asking how things work. There's also a great selection of affordable craft items, pretend play toys, games, and all sorts of products to help make learning cool and fun!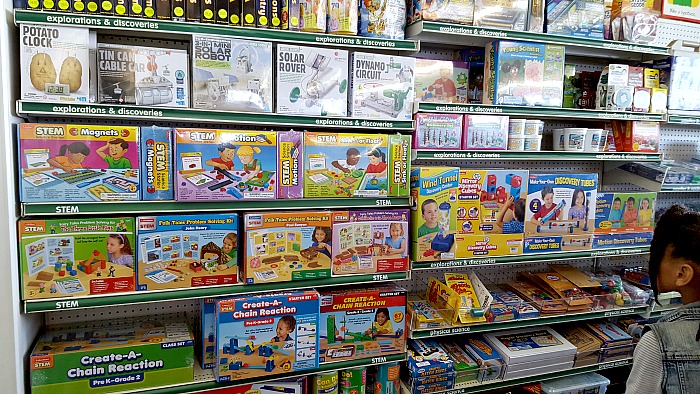 Now, one thing that I was really surprised about and I don't know how I missed this before, but Lakeshore Learning stores also has a wide variety of books! I guess I was always so focused on the games and toys that I didn't notice all of the storybooks, learning guides, and materials to help parents enhance learning at home. We realized we needed to get Ayva a dictionary and picked on up for her. We also let her get Pirate Island: A Reading for Details Game since reading comprehension is a huge focus this year at school. We spent nearly 2 hours in the store between the arts and crafts and all of the cool items to check out. It was so much fun!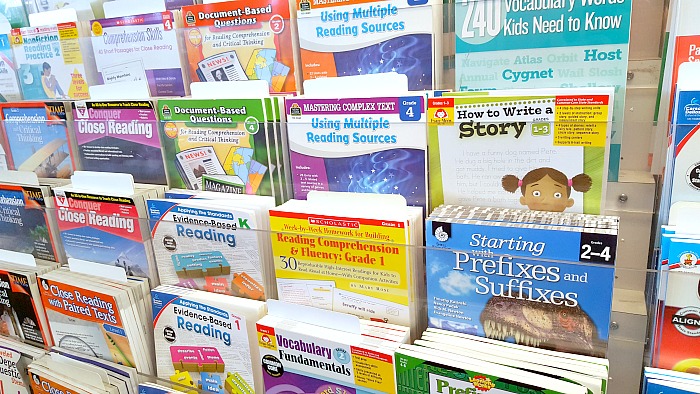 If you have a bit of time on a Saturday (or any day, really), head over to your local Lakeshore Learning store and spend some time exploring. Let your kiddo make a craft, and try out some of the activities they have laid out for you to check out. If you take a child to Lakeshore Learning store, they're going to want to buy something, so here's a 20% off coupon to save you a little bit of money!
We love being blog ambassadors for Lakeshore Learning! Keep following us here on the blog, and on Facebook as we continue to share videos and pictures of different products and activities in action. Head over to Lakeshore Learning on Facebook,Twitter,Pinterest, or their website for ideas on ways to engage your children in education and make learning fun!