Have fun and save money with CVS this holiday season! I show you how in this sponsored post!
It wasn't that long ago that I was the lady who could spend hours in a store. Big box or discount store, pharmacy or supermarket, it didn't matter. I'd walk around the entire store, taking my time looking at new nail polishes, checking out snacks that I hadn't seen before, and reading every single ingredient on a shampoo bottle trying to find my next favorite brand. It was just a way for me to decompress and chill, and my family always knew that when I said, "I'm going to the store", that I'd be gone for awhile.
Now that I'm pregnant and stores are a lot more crowded because of the holidays, I don't get out as much. Standing in lines is exhausting, and trying to maneuver my way past people and their carts can get rough sometimes. I try to go shopping really early before things start getting hectic, but if I miss my timeframe, I know I can always go to CVS.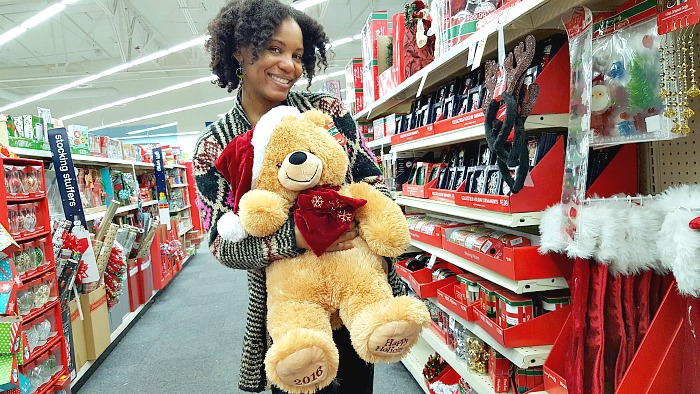 CVS is stocked with just about everything I need for the holidays. If I need a gift for Ayva's teacher, I can get a gift card there. I need snacks for lunch? Gold Emblem Abound snacks are the best, and there's always something new added to the line whenever I go to the store. Need Christmas decorations, wrapping paper, candy, or anything else to make my holidays festive? You guessed it. CVS has it all.
The best part about shopping at CVS for me is that I don't have to waste my time wondering if I'm going to find a good deal, or if they're going to have what I need. Since I can't take as much time as I used to just browsing around the store, making the decisions as I go, I'm able to plan ahead thanks to the sales paper and deals I get emailed to me.
Take this week for example. I received an email letting me know that my favorite Gold Emblem Abound snacks were on sale, AND that there was a $1 off coupon! Since I've been super forgetful lately, I went ahead and sent the coupon straight to my ExtraCare card with just one click. A couple of days later, I received an email letting me know that I could get ExtraBucks for buying two bags of candy. Well, it's Christmas, so I was going to buy candy anyway, and now I have ExtraBucks to use the next time I go shopping. You can't beat that!
You know what else has been fun? Hanging with Ayva and showing her why I love hanging around at CVS all the time. She and I spent an hour in the store picking out ornaments, deciding on snacks, laughing and having a good time together. That's really hard to do when you're in the middle of a crowded big box store with dozens of people crammed all around you. No shade! I'm just sayin'.
Have you signed up for CVS ExtraCare, yet? It's easy to do, and you can manage everything including your coupons, deals, AND prescriptions from the CVS Pharmacy app. It's basically like a Christmas miracle. Except it's year round. Happy holidays, and have fun saving!
I'm proud to be working with CVS Pharmacy to help spread the word about the CVS ExtraCare Rewards Program. All opinions expressed are my own, and all product claims or program details shared should be verified at CVS.com or with the appropriate manufacturers.