Walking doesn't have to be boring! Read about ways to add more fun to your walks with your baby in this sponsored post.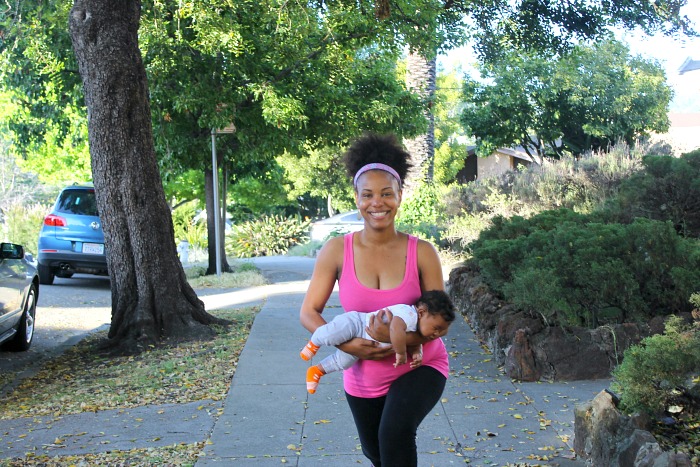 It's been a little over six weeks since I had my second baby, and I'm getting to the point where I can start to think about taking care of myself again. You know how it is. When you have a newborn, it's all about them. As much as I have wanted to exercise or eat healthy, I could only really do what I had the energy for. I'm starting to feel like a human again now, though, and I have a few health goals I want to meet. It's not so much about wanting to look good as it is wanting to feel good and know that I'm in good shape.
I'm kidding. I want to look good, too! Ha!
Even though I'm still healing from a tough delivery, there are still some low impact exercises that I can do, and plenty of positive health behaviors that I've adopted. I drink a ton of water since I'm nursing, and I walk with the baby every single day. Taking a brisk walk 30 minutes a day is one of the simplest things to do to help lower cholesterol. According to heart.org, "excess cholesterol can form plaque between layers of artery walls, making it harder for your heart to circulate blood." That doesn't bode well for a mom of two, so I'm willing to do whatever it takes to limit the cholesterol in my body.
Walking doesn't have to be a boring activity. I switch up my walk regularly to keep things interesting. If you're looking for ways to have more fun with your walk, I have you covered!
5 Ways to Add More Fun on Your Walk With Baby
Skip the stroller. Use a carrier instead. Not only will it help you to work out different muscles, but it's a nice change of pace for the baby!
Stop and smell the roses. Your walk should be nice and brisk, but it's okay to take time to point out interesting things to your curious baby. You might even find that you start to see things you've overlooked before!
Take different routes. Switch things up by walking around a different neighborhood, or taking a street home that you don't normally go down. A new route will keep things fresh for you and baby.
Add other exercise elements to your walk. You can add lunges or leg lifts to your walk to increase the impact. Your baby will love the feeling of a different movement, too.
Bring company. Baby is a great companion, but it's always nice to have an adult to talk to as you walk. Team up with another mom or one of your girlfriends to chat as you get fit.
#GoRedGetFit
Go Red for Women is the American Heart Association's national movement to end heart disease (and stroke) in women. Their latest initiative, #GoRedGetFit is a quarterly health and fitness challenge that empowers women to get fit by providing inspiration and empowerment through quarterly fitness challenges. There's also a free Facebook group that you can join with other women who are working on similar health goals that is maintained by fitness pros.
If that wasn't enough, Macy's has joined the cause with exciting prizes, like the chance to win a $1,000, $500, or $250 Macy's gift card to keep participants motivated.
This quarter's goal is to maintain cholesterol under 200 mg and to log 10K steps a day. This challenge will help to lower cholesterol which is essential to good heart health. Upcoming challenges include increasing water intake, increasing cardio, and consuming less salt. Join the challenge on the Go Red for Women, and join me and thousands of other women who are committed to being heart healthy!