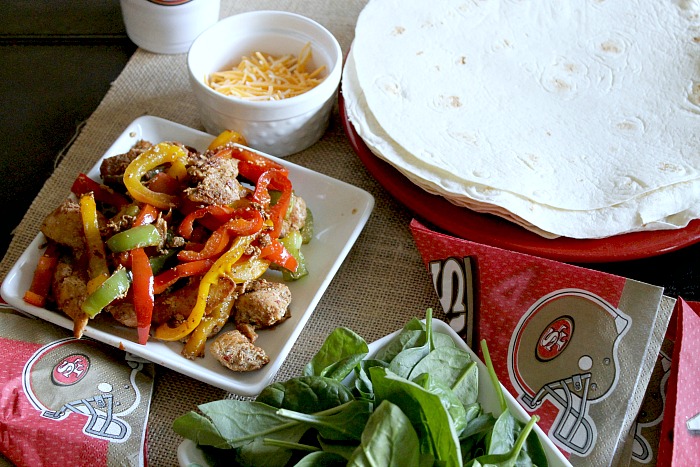 A little over five years ago, I moved from Philadelphia to California. With that move came a lot of changes. I left my job, my home, and all of my family and friends. Not only that, but I left behind my Philadelphia football team and became a proud San Francisco 49ers fan. I didn't really have a choice. The family that I married into was very clear that there were no other options. Being the amazing daughter-in-law that I am, I switched teams and have never looked back.
I'm kidding. Mostly. Even if it wasn't a requirement to be a 49ers fan as a Riley, I would root for the team anyway. I live in the Bay Area, and I love it here. Why wouldn't I root for the hometown team? Walking around with my Niners gear on Sundays or Mondays makes me feel like a part of the community that I'm in. It really does bring us all together.
You know what else brings folks together? Food. Football and food make for a very happy family! We often watch the game at my in-laws house. When we're there, we can expect delicious traditional football food. My father-in-law smokes some meat, and my mother-in-law pulls everything together with her tasty sides.
At our house, when my husband and I host, I go for food that's easy and yummy. Fajitas, tacos, and other "I cook it, you make your own plate" type foods are my specialty. Foster Farms has made things even easier for me with their Pre-Cut Marinated and Frozen Sauté Ready Chicken Line. Everything is already seasoned and ready to go in 10 – 15 minutes! I don't want to miss watching the game and hanging out with my family because I'm stuck in the kitchen, so Foster Farms options really fit into our lifestyle.
Making fajitas with Foster Farms Chicken
All I had to do is take the Fajita Marinated chicken strips from the freezer and add them to a skillet with a little oil. The strips are raw, so I made sure to cook them all the way through. I cut a few peppers and added them to the cooked chicken, then put out some plates with tortillas, chicken, and greens, and that was it. I was done with the entire meal in twenty minutes!
Feed Your Fandom
Do you love spending time with your family and watching the 49ers? How cool would it be to be able to cheer them on in person in your own suite with 16 of your closest family and friends? You could totally do that thanks to the Foster Farms Feed Your Fandom promotion. Foster Farms is the official chicken and turkey of the San Francisco 49ers, and they're giving away 49 amazing daily prizes like 49ers tickets to the upcoming homegames on 11/12 against the New York Giants, and 11/26 versus the Seattle Seahawks. All eligible entries are also eligible to win the Grand Prize, that 49ers VIP Suite Experience that I mentioned above! The best part? Every entry helps to feed the hungry!
To get involved and enter the Feed Your Fandom promotion just pick up specially-marked packages of Foster Farms at area Safeway, Savemart, Lucky, Foodmaxx, Raley's or Nob Hill stores.
Enter by taking a photo of your receipt and upload it by text or by uploading the receipt at http://feedyourfandom.com
For official rules and free method of entry visit http://feedyourfandom.com No purchase necessary, void where prohibited. Game ends 11/30/17