Get the recipe for a delicious brunch mocktail in this story sponsored by Sweet'N Low® and Socialstars. #donthesitaste
So, about brunch. Can we once and for all just name it the champion of all meals? Let's go through the ways that brunch is a winner. First, when you make plans for brunch, you get to sleep in. No one does brunch at 8 AM. No one. Second, there's breakfast food and there's lunch food. You can get breakfast and lunch at the same time! Waffles and macaroni and cheese. Fried chicken and french toast. You'd have to be a fool not to see the merit in that! Finally, brunch gives you the perfect excuse to start drinking early. Why, hello Bloody Mary! Nice to see you again, Mimosa! Brunch is totally stuntin' on other mealtimes. Without a doubt.
I clearly love everything about brunch, but if I had to choose my favorite element, it'd have to be the beverages. Other than the Bloody Mary which has a tomato juice base, most brunch drinks are super fruity and fresh. Since moving to California, I've discovered agua fresca. Refreshing and not at all heavy, agua fresca fits in perfectly at brunch! I decided to try making it at home. Of course, every recipe I found online took way more time than I wanted to spend on a brunch drink, so I came up with my own simple variation. This one uses frozen mango, Sweet'N Low, and is ready to drink in less than 10 minutes.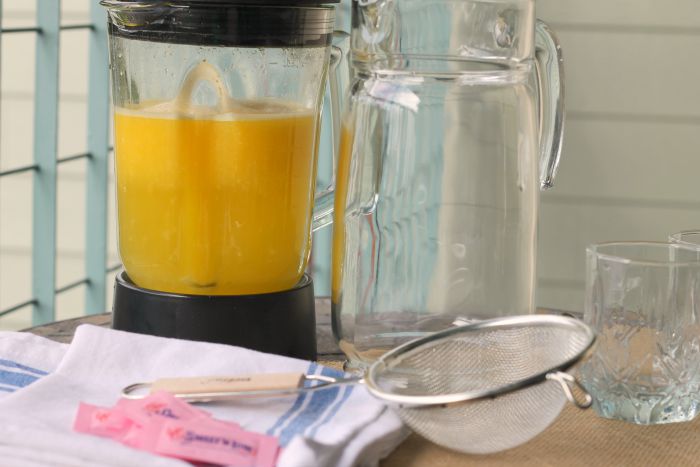 Even though agua fresca is just fruit and water, I've had it in some places where it's extremely sweet due to loads of sugar. Since I'd rather waste my calories on chicken and waffles rather than a cocktail, I used Sweet'N Low in my agua fresca recipe. Also, because I used the zero calorie sweetener, that means I can make up for it by trying a scone, or honey bun, or any other delicious brunch pastry that makes its way to me.  Come on, could brunch be any more boss? I think not. Well, maybe a little bit more thanks to Sweet'N Low. Okay, try out my recipe below and let me know what you think!

Easy Mango Agua Fresca
Ingredients
4 packets Sweet'N Low
3 cup frozen mango chunks
6 cups of cold water
ice
optional lime to garnish
What To Do:
Combine the mango, water and Sweet'N Low in a blender.
Blend on high until thoroughly mixed and creamy. There should be no chunks or lumps!
Pour mixture through a strainer into a pitcher or glasses filled with ice.
Want to make your summer even sweeter? Come hangout with Sweet'N Low® on their summer sampling tour to try some Sweet'N Low® sweetened iced tea, play fun games and snap hilarious pictures of all the fun. Be sure to mention Mama Knows It All at the event for a special gift. See where you can meet up with Sweet'N Low® this summer at: sweetnlow.com/tour.