There are parenting books that cover every phase of a child's lifecycle. From pregnancy to the teenage years and beyond, the abundance of resources available to moms can trick us into having a false sense of security. "I've got this", she thinks with confidence, as she prepares for the things she's read to expect. Breastfeeding? No problem. Tantrums? No big deal. That's what you think. I'm working with Michaels' Camp Creativity to help you get through one of the most challenging times in a mom's life.
Wait, Moms, just wait until the first summer of your child's elementary school career. Then, and only then, will you realize that nothing could have prepared you for this stage. It's the time when your child has an opinion about what they like and don't like, they expect to be entertained, and they've learned the dreaded phrase, "I'm bored."
No one told me about summer break, y'all! I thought my little girl would be happy to be home with Mommy. We'd go to the pool, watch some movies, and she'd hang out keeping herself busy while I worked. I couldn't have been more wrong. I quickly realized that in order to maintain my sanity, I'd need to find a way to engage her in something fun and outside of the house at least a few times a week. For the last couple of years, that something fun has been Camp Creativity at Michaels.
Michaels' Camp Creativity is a seven week program that runs through the summer on Monday, Wednesday, and Friday. Camp Creativity is for kids age 3-8. In each session, the kids have a chance to make two projects based on a weekly theme like Land of the Dinosaur, Under the Sea, and more. The sessions begin at 10am, and while parents shouldn't leave the store, they are welcome to hang out and shop at Michaels, or even join in the craft making fun. The sessions are really affordable, too, at just $5 per class, or 3 classes for $12. I signed up in the store, but if you know you're going ahead of time, you can register online to save time.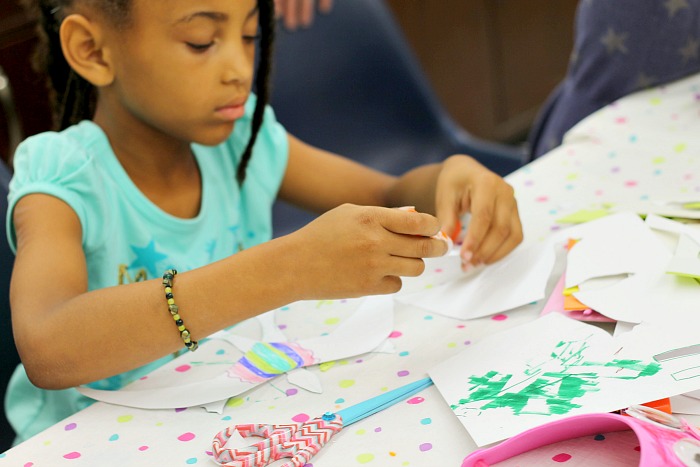 After a particularly grueling morning last week, Ayva and I headed to Michaels for Camp Creativity. The class was filled, and the instructor was patient and relaxed as he led the children through each activity. There were quite a few children on the younger end of the age spectrum, so their parents stayed in the room and helped. I worked a bit, and then worked with Ayva to make a cool pterodactyl mobile. The nearly 2 hour session was the perfect lead up to lunch, and inspired Ayva to pull out her craft supplies when she got home.
While there may not be many books preparing you for the "I'm bored" phase of kid life, Michaels has you covered. See you at Camp Creativity!
This is a sponsored post written by me on behalf of Michaels.