Breakfast at Chuck E. Cheese? Yes! Read all about it in this sponsored post!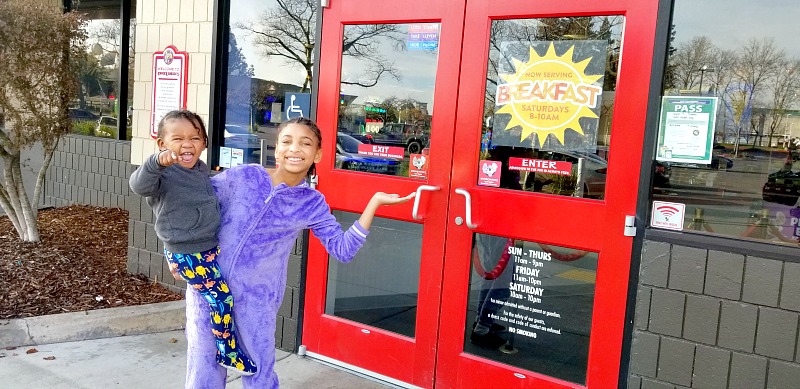 Does Chuck E. Cheese serve breakfast?
If you're an early rising mama like me whose kids wake up with the sun, you may have searched that exact phrase on Google at one point or another.
I don't mind that my kids wake up early. We love to get out of the house and do things like shopping and running other errands before it gets too crowded. I've long wished for something that we could do that was fun, though, you know? Instead of pushing a cart through an empty store at 8 AM, it would be cool to have an option to go somewhere and play.
Last Saturday, the kids and I drove over to Sacramento to test out the Chuck E. Cheese pilot breakfast on Saturday program. It was everything that I'd been looking for in something to do with the kids on Saturday morning! The food was affordable and surprisingly delicious. My kids got to play. And when we left, we still had the entire day to do other things. Win / win / win!
What kind of breakfast is served at Chuck E. Cheese?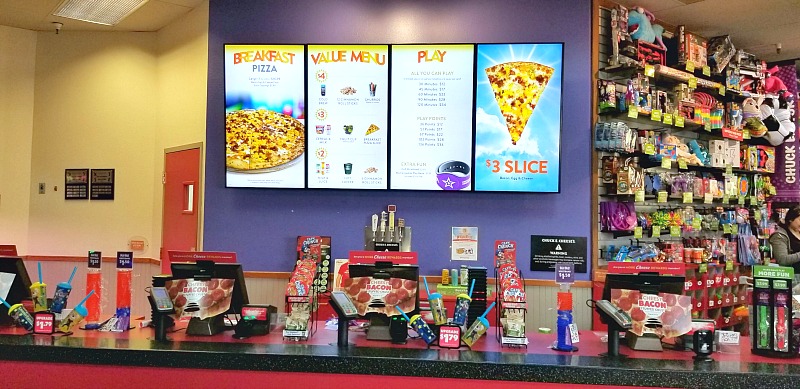 I wasn't sure what kind of food would be served for breakfast at Chuck E. Cheese. I was thinking that they might have pre-made breakfast sandwiches or something of that nature. Honestly, I wasn't looking forward to it. I was surprised when I saw that they had breakfast pizza, but it totally makes sense!
Before I talk about how ridiculously good the breakfast pizza is, let me share a little bit about the prices. There was food to choose from ranging from $2 – $4 and everything on the menu was kid-friendly. Jamie, my toddler, got a fruit cup for $3 and Ayva wanted cereal and milk.
I got a slice of the breakfast pizza because, as a pizza fanatic, I just had to try it out. It did not disappoint.
The crust on the breakfast pizza is thin and absolutely perfect. It's topped with eggs, cheese, and crispy bacon. It was so good! When I brought it to the table, I didn't even get a bite before Ayva was pulling at my plate asking, "Mommy, can I have some?"
If you're going to Chuck E. Cheese with a group for breakfast, I recommend picking up a whole pizza for $16. It will be devoured.
Are the games open during breakfast at Chuck E. Cheese?
As we were driving to Chuck E. Cheese, we were hoping that the entire play area would be open. I warned the kids that it might not be because they're super busy on the weekends, and maybe breakfast is just breakfast.
Fortunately, everything was open! All of the games, all of the little kid rides, and Chuck E. Cheese himself even showed up!
The kids loved running around from game to game without having to wait long or share. Honestly, I loved that part, too!
I spent about $10 for a play card, and Ayva and Jamie played for about an hour. Because they didn't have to wait to play, that was more than enough time for the both of them.
Oh, and just a note about the All You Can Play card? I purchased our play in credits, but you can also pay for a certain amount of time and the kids can play as many games as they can in that timeframe! We'll do that next time, for sure.
Wear your jammies to breakfast
Kids are encouraged to wear their jammies to breakfast at Chuck E. Cheese, so you could literally roll out of bed and go. In fact, on January 25, if you wear jammies, kids will get 100 free tickets.
This breakfast thing on Saturday at Chuck E. Cheese is a game-changer, for sure. I'm a busy mom, and sometimes I feel like I'm not doing enough fun stuff with my kids. This just opened up a whole new opportunity to play with my kiddos, and we all had a blast!
Find out more about breakfast at Chuck E. Cheese by visiting their website, following them on Twitter, Instagram, and Facebook.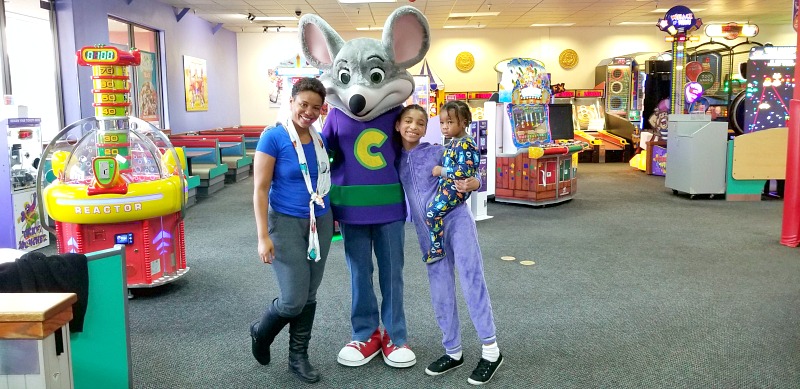 Interested in having a birthday party at Chuck E. Cheese? Here's our experience!