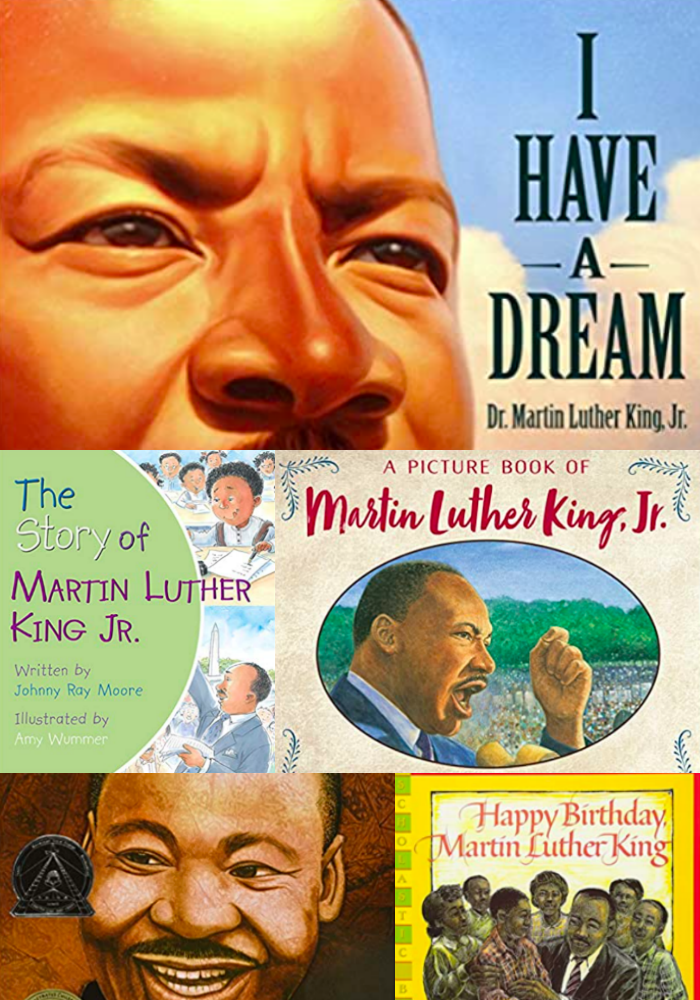 If you're looking for a way to teach your young child about Dr. Martin Luther King, Jr., there's no shortage of literature that will introduce your early learner to the Civil Rights leader.
From stories about Dr. King as a young boy, to the history of his fight for equal rights, and even a beautifully illustrated book featuring his famous, "I Have A Dream" speech, there's sure to be something interesting for every stage of learning.
The following books are a great resource for parents or teachers of children in preschool or elementary school.
Books to Teach Little Kids About Dr. Martin Luther King, Jr.
You're never too young to learn about Dr. Martin Luther King, Jr. These picture and storybooks about MLK are perfect for preschoolers and kindergarteners.
This board book is a great introduction to Dr. King for young children. Using simple language, it gives an account of Dr. King's life. While the watercolor photos are beautiful, I found this book to be challenging to use with a group of preschoolers because the pictures don't quite stand out. It worked wonderfully reading with a child one on one, though.
The best part about this book is that preschoolers get a glimpse into the boy who eventually became Dr. King. They will see that he had been left out, and had his feelings hurt, but that he channeled that pain into making sure no other children had to experience it. Be prepared for deep conversations with this book.
This book, with its bright photos and concise writing, is great for preschoolers. It tells about Dr. King's life in a simple way that little kids can really understand and relate to.
Although this book may seem to mature for preschoolers, it is definitely one that they can grow up with. The book uses actual words from Dr. King to tell the story of his life. If you skip the prose, and stick to the quotes from Dr. King, you can use the gorgeous photos and MLK's words to start some amazing conversations with your little one.
This book doesn't go into a lot of detail about the things that Dr. King did as a Civil Rights leader. Instead, it encourages children to think about their own dreams. Perfect for preschoolers and kindergarteners, this book is a great way to start a unit on Dr. Martin Luther King, Jr.
Everyone has heard about Dr.King's "I Have A Dream" speech, but not many people have actually taken the time to read the actual words. It'll probably be difficult for little ones to understand much of the speech, but read it to them anyway. It's good for them to start to connect all of the "I Have A Dream" activities that they are bound to do in school with the actual speech that inspired them.
They say behind every strong man is an even stronger woman. Little ones can be introduced to that concept by learning about Coretta Scott King, Dr. King's partner and wife. Mrs. King was a legend in her own right, supporting the Civil Rights Movement alongside her husband, and working to further the cause even after Dr. King was gone. This lovely book, illustrated by Kadir Nelson, is written by Ntozake Shange, one of my favorite poets.
Here's a tip: With MLK Day just around the corner, head to your library to pick these books up. If you'd like to own them for yourself, consider signing up for a free trial Prime membership at Amazon to have them delivered for free in 2 days. Many books are also available for loan in the Kindle library with the Prime membership.