Have you ever walked into your kitchen planning to make dinner, and when it's all said and done, you realized you instead made magic?
That's what happened to me the other evening when I went in all set to bake some chicken breasts for my family.
I had a fantastic recipe from Pinterest that I'd been drooling over all day.
My chicken was thawed out, and I was ready to get to cookin'. Once I started gathering ingredients, though, I realized I was missing quite a few key items.
My first instinct was to order pizza. Then I got my life together, gave myself a pep talk, and decided to just go for it. I was going to improvise a recipe.
That's right, y'all. I gathered up my courage, preheated my oven, and went off book to create what Ayva would declare to be "the best chicken ever".
Pan-seared and then baked in a white wine and parmesan sauce, this chicken had so much flavor that every single one of us went back for seconds!
Ayva went on and on about how good the chicken tasted, and even Terrence complimented me on it (and he's not particularly expressive when it comes to my cooking!).
If you're tired of the same old chicken breasts, please try this recipe.
It's perfect for a romantic dinner because the sauce is not too heavy so you can still feel sexy after you eat, but it'd be great for family dinner with your kids as well.

Baked Chicken In Creamy White Wine Sauce
Ingredients
-1 cup white wine
-2 tablespoons olive oil
-1/4 cup grated parmesan cheese
-2 tablespoons butter
-1/2 cup half & half
-1.5 lbs. chicken breasts
-1 clove of garlic
-salt and pepper to taste
-parsley to taste
Directions
Preheat oven to 400 degrees Fahrenheit.
Season chicken breasts with salt and pepper on both sides.
Chop garlic clove into fine pieces.
Pan sear chicken breasts in olive oil and garlic for 1 – 2 minutes on each side until lightly browned. Transfer to an oven safe cooking dish.
In another pan, melt butter, then add white wine, half & half and parmesan cheese. Whisk until cheese is thoroughly melted. The sauce will not be totally smooth and creamy. Don't be alarmed!
Pour sauce over chicken. Bake chicken for 25 – 35 minutes until cooked thoroughly.
Turn on broiler and broil chicken for 3 – 5 minutes until all pieces are nice and brown.
Sprinkle with dried parsley to finish.
Enjoy!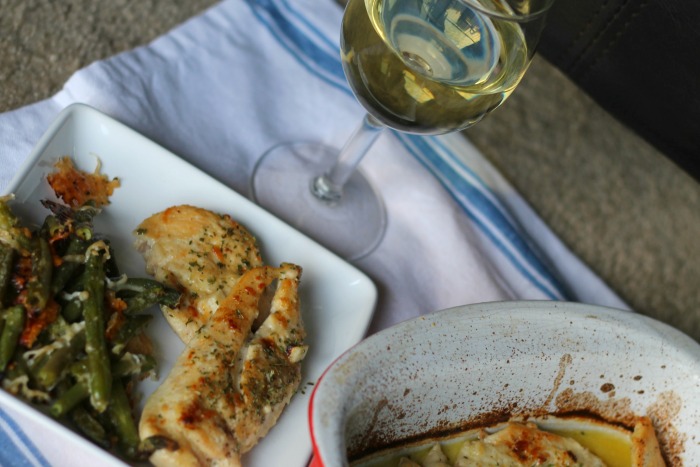 This recipe was inspired by Lemon Butter Chicken by Damn Delicious.
Other posts you might enjoy:
Pan Seared Chicken With Cheddar Grits
Chicken Fajita Sliders
Chicken with Pasta and Pesto